While many relates luxury holiday to Michelin star dining in France, branded shopping in Paris or indulgence resort in Maldives, Balkan can be a very surprising candidate for a luxury trip. And it is very much more affordable.
Accompanied by your personal throughout guide, who could be a professor, curated to suit your schedule and interest while exploring UNESCO World Heritage sites without masses of tourists, this will be luxury holiday in a very different way. And yes, you will be driven by luxury Mercedes limousine, stay in 5-star or charming boutique hotels and dine in chic little know secret places every dining.
Below are our top 4 luxury hotels in the Balkan region that are well located to explore the destinations.
The Plaza in Tirana, Albania
It is a surprise for a country that just opened to commercialisation to have a locally run luxury hotel that meets all international 5-star standard. The design is modern and chic and its location next to Skanderbeg Square within striking distance from the main F&B area and key museums is unbeatable.
Price: starting from ~Euro 160 per night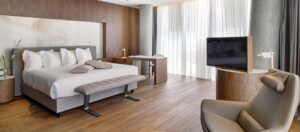 Credit: The Plaza Tirana
Square Nine Belgrade, Serbia
Right in the heart of the old town and short walking distance from the chic restaurant street and the Belgrade Fort, the location is ideal to explore Belgrade on foot. This design boutique hotel is also a showcase of what the Serbian can do looking towards Western Europe as their future.
Price: starting from ~Euro 180 per night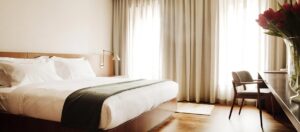 Credit: Square Nine Belgrade
Villa Dubrovnik, Croatia
The view across the bay towards the old city of Dubrovnik is to die for! Especially if you are sipping champagne at sunset or dining alfresco watching the city lights and boats dotting the water. Make sure you catch the complimentary boat shuttle to enter the old city through the harbour gate like how many arrived here during the Venetian time. The rooms are chic and well designed and of course, one that offer the view of the old city adds that much more.
Price: starting from ~Euro 600 per night during peak season.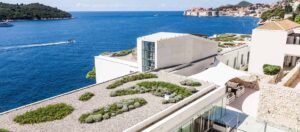 Credit: Villa Dubrovnik
Aman Sventi Stephan, Montenegro
Whether it is a gourmet trip through Croatia or an exotic adventure over Serbia, Kosovo, North Macedonia and Albania, this little gem is a befitting grand finale for sheer luxury and indulgence. The Aman brand promise is fulfilled here. Plus this hotel is the entire historical island wonderfully refurbished. The sunset at the old church, now the bar and the fine dining restaurant at the promontory courtyard are experiences that wow even the most jaded travellers.
Price: starting from ~Euro 1100 per night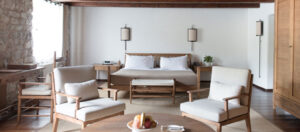 Credit: Aman Sventi Stephan