5 Luxurious Desert Tours in Morocco
When you think of the desert, opulence and luxury may not be the first things that come to mind. Yet, Morocco – a country known for its vibrant culture, historic cities, and dramatic landscapes – is redefining this perception with its luxurious desert tours. The Moroccan deserts, with their golden dunes and starlit skies, offer an irresistible allure to those seeking a unique, high-end travel experience.
Erg Chebbi Dunes
The Erg Chebbi Dunes, located in the Sahara, the world's largest hot desert, offer an exotic, alluring beauty. These vast dunes are home to some of the most extravagant desert camps in Morocco. The luxury camps are outfitted with high-quality furnishings, king-sized beds, en-suite bathrooms, and private patios. These accommodations aim to offer the ultimate in comfort and luxury, surrounded by the awe-inspiring desert landscape. Meals in the desert are no less extravagant – imagine dining under the stars, with gourmet dishes prepared by experienced chefs.
The Erg Chebbi tour isn't all about relaxation. Activities like camel trekking, sandboarding, and guided nature walks make for exciting daytime adventures. As night falls, tourists can enjoy stargazing, bonfire storytelling sessions, and traditional Moroccan music performances. Customized itineraries and private guides further enhance this tour, providing a truly personalized experience. Visitors often rave about the magical desert sunsets and the tranquility of the Sahara nights.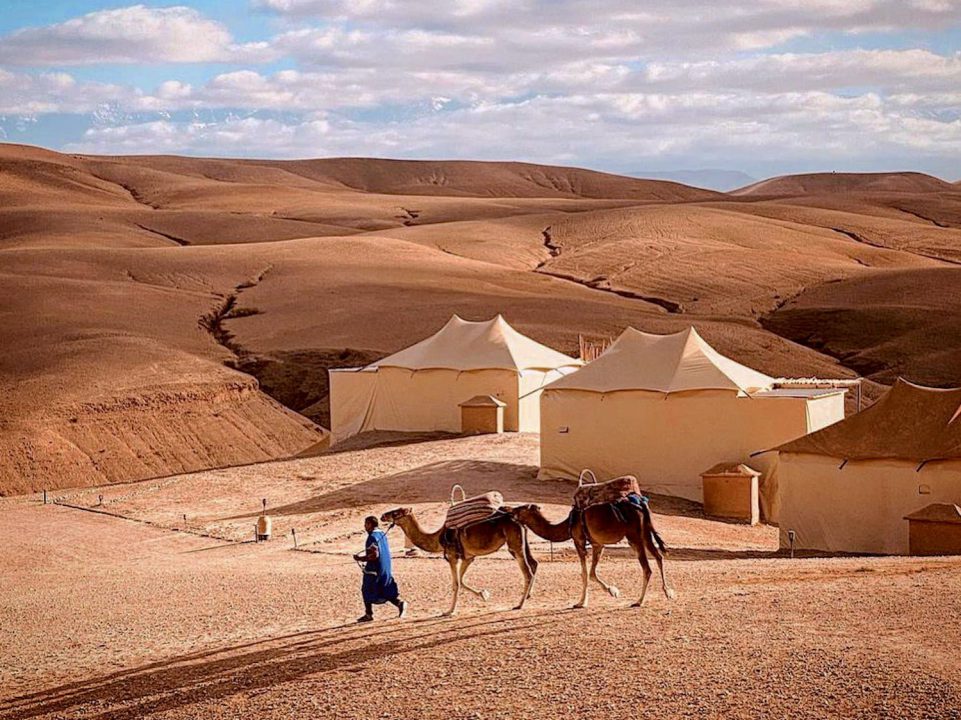 Agafay Desert
The Agafay Desert, a stone's throw away from the vibrant city of Marrakech, provides a different kind of luxury desert experience. Despite its rocky landscape, the desert's high-end camps, equipped with comfortable beds, private bathrooms, and beautiful Moroccan decor, ensure an indulgent stay. The camps even offer unique amenities like outdoor pools and wellness facilities, where guests can enjoy private yoga sessions or spa treatments.
Adventure lovers will appreciate the range of activities offered in Agafay. From quad biking across the rocky terrain to horse riding and hot air balloon rides at dawn, Agafay presents numerous opportunities for excitement and exploration. Previous guests recount their experiences of Agafay with fondness, praising the dramatic landscapes, thrilling activities, and the exquisite solitude of the desert nights.
Erg Chigaga
Erg Chigaga, in the far reaches of the Moroccan Sahara, is renowned for its untouched beauty. The tour to this secluded destination is worth every effort, with deluxe tents that mimic the comfort of a hotel room, down to private bathrooms and plush bedding. Dining in Erg Chigaga is a gourmet experience with chefs whipping up Moroccan and international delicacies.
Along with enjoying traditional music and dance, guests can partake in dune bashing – a thrilling drive over the desert dunes. Erg Chigaga also offers an exclusive experience for guests – helicopter rides. This provides an incredible aerial view of the vast, unspoiled dunes, a memory that past guests recount as breathtaking and unforgettable.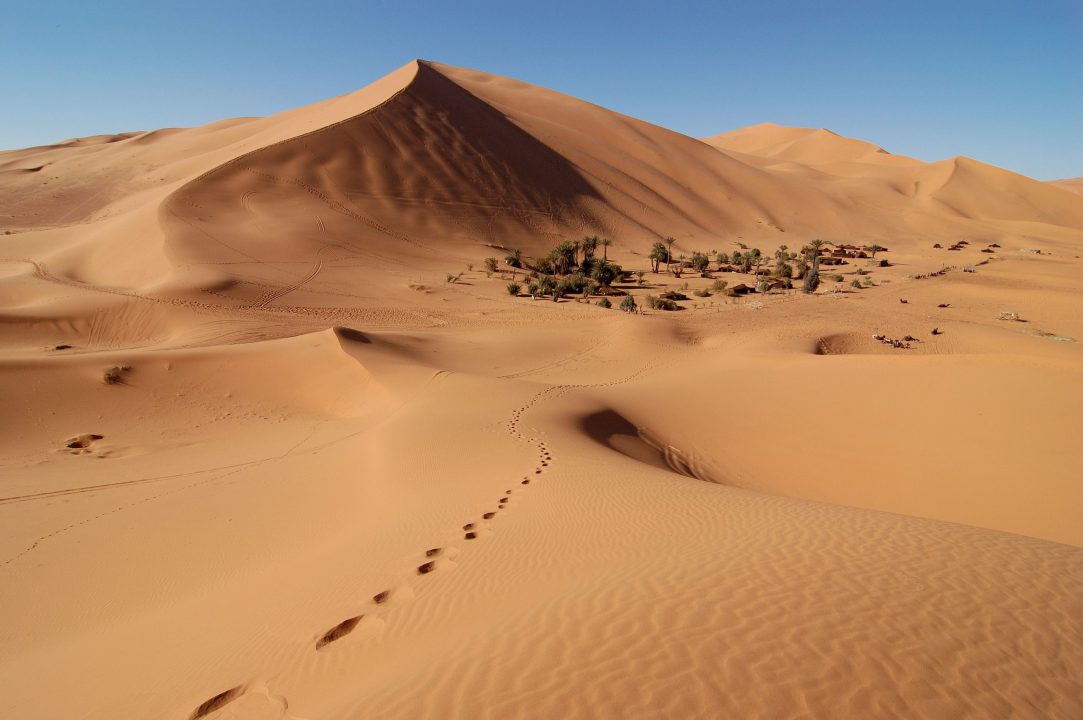 Merzouga Desert
Merzouga is another jewel of the Sahara, famous for its towering dunes and strikingly beautiful views. The Merzouga luxury tour offers 'royal' suites, complete with spacious bedrooms, living areas, and private patios overlooking the dunes. Guests can also avail of private butler services, ensuring every need is met promptly.
Activities include sunrise or sunset viewings, fossils hunting, and bird watching. Guests enjoy the royal treatment while being immersed in nature's majesty, often leaving them in awe of the striking balance between luxury and wilderness that this tour provides.
Zarabe Tented Camp in Draa Valley
Draa Valley, with its lush date palm oases and old Kasbahs, offers a different kind of desert experience. Zarabe Tented Camp offers exclusivity and intimacy, with limited guests, ensuring a peaceful, undisturbed stay. These luxury tents come with high-end amenities, comfortable beds, and en-suite bathrooms.
During the day, guests can enjoy guided walks, explore local villages, and partake in Berber cooking classes. The peacefulness of the Draa Valley and the unique cultural interactions add a special charm to this luxurious desert tour.
Morocco's luxurious desert tours offer far more than just a stay in the wilderness. They provide a blend of adventure, culture, and luxury that is truly unparalleled. Whether it's the remote beauty of Erg Chigaga, the royal treatment in Merzouga, or the cultural charm of the Draa Valley, each tour has its unique allure. So, when planning your next vacation, consider the golden dunes and starlit skies of Morocco – you'll be stepping into a world of luxury that exceeds all expectations.