Cruising through the Outback in Australia
Not many know the Kimberley region, taking up almost the entire north-western corner of Australia, the sheer size of it makes it one of the best places to discover nature, wildlife and adventure. Almost 383 times larger than Hong Kong, 581 times the size of Singapore, this remote region is home to prolific wildlife, wondrous sights, swimming holes filled with fresh water, and outback stations. Don't like crowds and prefer some fresh air? Despite being immensely large, there are very few inhabitants in the region, making Kimberley a very sparsely populated area. Curious as to what's there to see? We have the list prepared: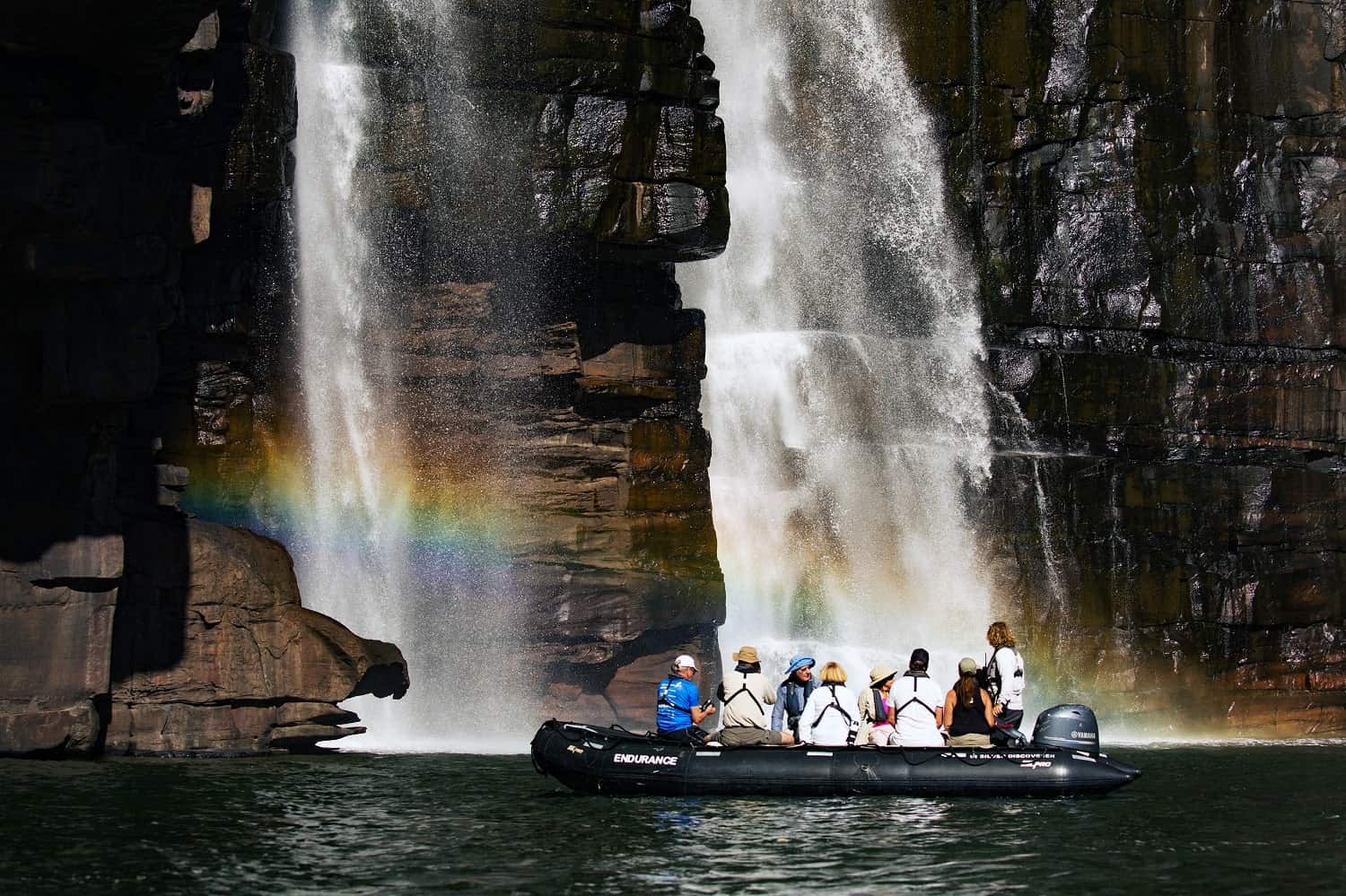 Glimpse in ancient history

If you thought Roman architecture was a peek into ancient times, we're taking a huge leap back in time at Kimberley, Australia. Many ancient Roman ruins are like infants when compared to the painted Rock Walls in the Kimberley region, dating back to almost 16,000 years ago.
Paleontology more to your liking? Come to Broome to have a look at the world's largest dinosaur tracks, the 25 kilometre stretch of coastline north of the city is home to thousands of dinosaur tracks belonging to more than 20 different groups, making it the most diverse track sites in the world. Imagine the thundering beats of two-toed herbivores, or raging T-rexes that stomped their existence into the very Earth that you tread today.
A giant cornucopia of Natural Wonders
Though Kimberley itself is not crowded, there are certainly enough attractions and natural wonders here to crowd your itinerary. Breathtaking wilderness Purnululu National Park is home to the Bungle Bungle range, an expansive land formation out of beehive-like sandstone karsts, and also a UNESCO world heritage listed for the geological significance. Many nature-buffs would also be fascinated to experience the Horizontal Falls of Talbot Bay, described by the famous natural historian David Attenborough as the "Australia's most unusual natural wonder".  The massive tidal movements of the region, easily reaching 11-metre, creates rapids that resembles a waterfall moving horizontally, a truly awe-striking sight.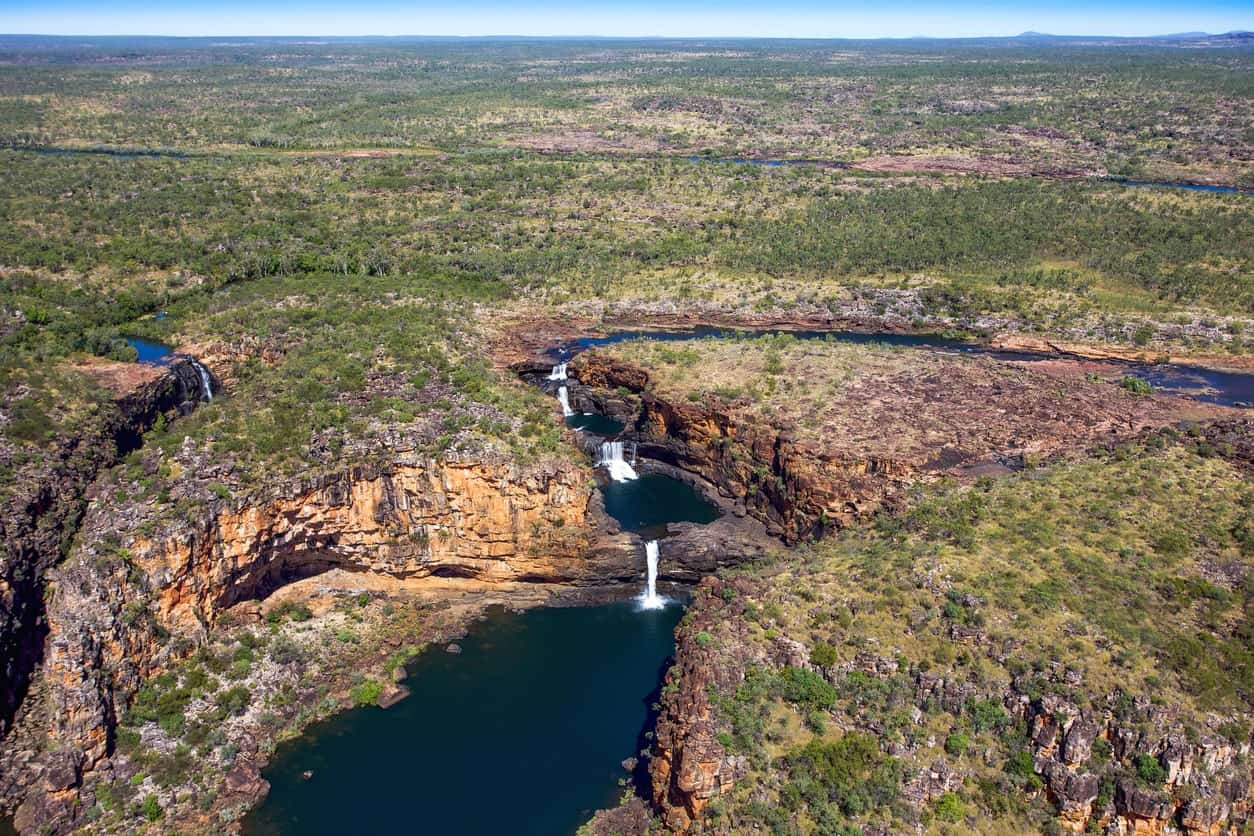 Bird of paradise
Thought you would be lonely in such a sparsely populated area? Not at all – there are over 300 species of birds in the Kimberley region alone. Sit by the shore at sunset to see the dance of brolgas birds, a true spectacle for any nature lover. You can also see flocks of magpie geese fly overhead at sunrise, it's definitely a noisy sunrise as you hear the flapping of enormous wings heading out to sea. If lucky, you may even spot a pair of chirping Brown Honeyeaters or some colourful Rainbow Bee-eaters among the trees, the endangered Gouldian Finch or the Sea Eagles feeding their young by the shore.
Clear skies ahead
Sparsely populated also roughly translates to low light pollution. Get unhindered views of the night sky that's near impossible in cosmopolitan cities, almost all of the Milky Way can be seen here, where the spectacular night skies are revealed. The Kimberley night skies are clear, pristine and beautiful, and you find yourself transported back in time to a point where there were no streetlights or billboards. There is a moment where you will realise that you are not only staring into the Milky Way, but you are on a planet that is part of the Milky Way, that realisation often is humbling and makes one appreciate the beauty of just being alive.
Fly me to the moon
Ready to go to the moon? We might not be flying though but we can certainly take the stairs. The Staircase to the Moon in Kimberley is an amazing phenomenon caused by the rising of a full moon reflecting off the exposed mudflats in Roebuck Bay at a low tide. The optical illusion of a stairway to reach a Moon is alluring as it is breathtaking. The phenomenon only occurs a couple of times per month from March to October. Don't worry if you don't arrive at the right dates to catch this spectacular show, the Indian Ocean itself seen in contrast with the red rocks of the Kimberley coast is a sight to behold on its own.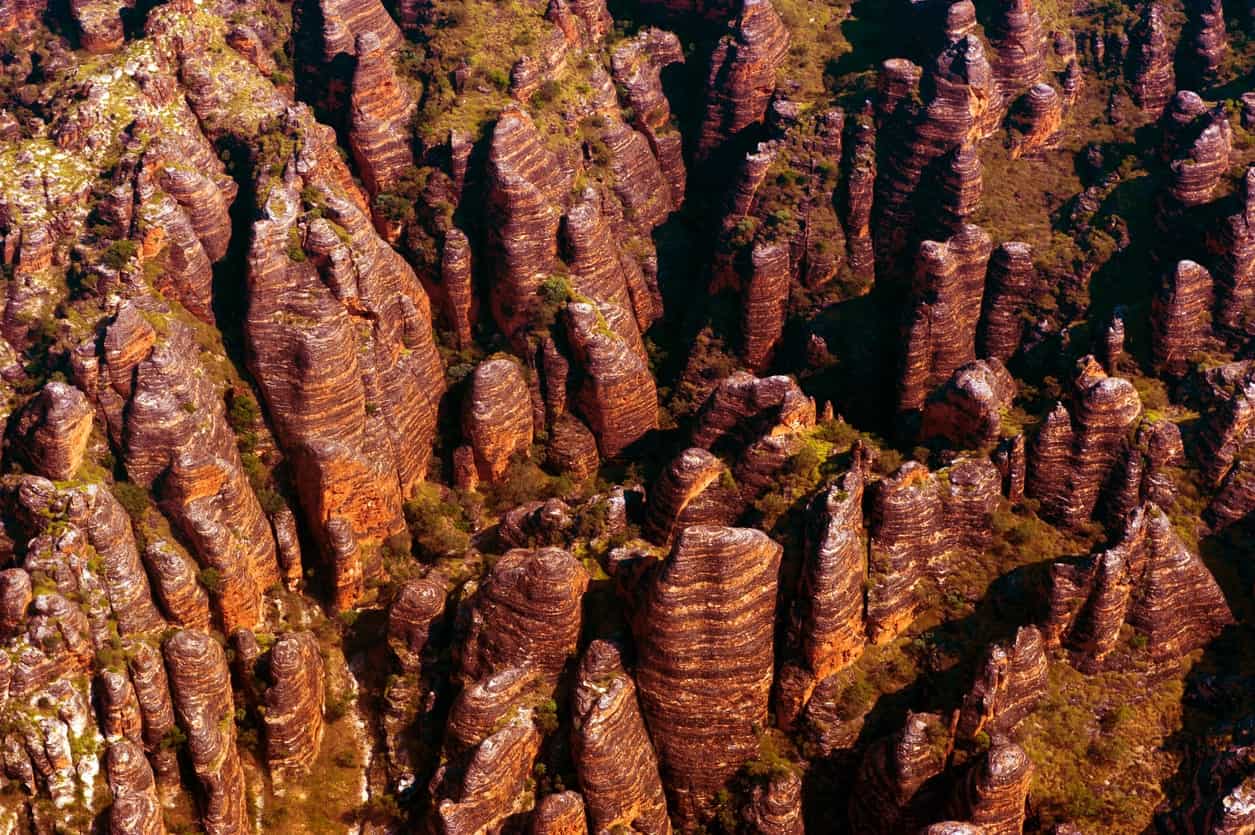 Connect with the oldest culture in the world
Having been here for over 50,000 years, the Traditional Owners of Australia's Kimberley region are now represented by the Kimberley Land Council. Up to 40% of the region's population are aboriginal people, comprising a vast range of different language groups, each with its own story and heritage. Visit them in Indigenous-led tourism businesses operating in the region, tours can offer a variety of experiences that help you learn, understand and appreciate the spiritual connection Aboriginal people have to this vast and beautiful Kimberley land.
Can't wait to take a tour around Kimberley? It's important to note that many of these amazing locations are not easily accessible by land and vehicle. Instead, Intriq Journey recommends taking a cruise to visit Kimberley: get up close and personal to the Horizontal Falls, get on and off with extreme comfort and luxury, knowing that only the best quality of service is available to you. Kimberley's complex gorges, canyons, ridges and cliffs can be easily accessed with a cruise, designed for those who delight in the thrill of discovery while indulging in lavish surroundings. Who says you have to pick a side? Get your private verandas and ocean suites all with exclusive butler service, celebrate expedition cruising at its best with the comfortable living to the experienced local guides that guarantee a wonderful and fruitful journey in Kimberley.