China Most Stylish Water Town Retreats
Framed by historic bridges, waterways and quaint houses, the historical water villages of China strewn across the Yangtze river tributaries has mesmerized world travellers across centuries and earned itself a distinction as the "Venice of the East".
Not sure which water village sojourn is best for you? Here are some of our favourite picks to inspire you!
Ahn Luh Zhujiajiao
Best for: Lux Manor Living
Location: Zhujiajiao, Shanghai, China
Delicately restored from a 600-year-old Ming Dynasty courthouse to recreate the wealthy mansion lifestyle of the past, each villa comes with a courtyard, a private garden and butler service. Accessibly hidden in Qingpu district just 1 hour away from Shanghai's Pudong skyline, this is by far one of the most accessible water towns escapes for modern urban travellers.
Price: Starting from ~USD 670 per night
Alila Wuzhen
Best for: Elegant Zen Refresh of an Icon
Location: Wuzhen, Zhejiang, China
As China's largest and most picturesque water town, Wuzhen's timeless romance is best experienced through overnight stays at Alila's understatedly elegant and spacious rooms. Watch as the crowd of day-trippers turn into a brightly lit maze of quiet alleyways. Dubbed "Home of the Silk", Wuzhen preserves much of its ancient traditions such as indigo fabric dyeing, wood carving, Huagu Opera and shadow plays.
Price: Starting from ~USD 630 per night
Ahn Luh Lanting
Best for: A Poetic Step into Old China
Location: Shaoxing, Zhejiang, China

Home of the famous philosopher and writer Lu Xun, Shaoxing is a cultured man's gondola experience as you sail on a traditional wupeng across iconic attractions described in his literature. Finally, retreat into your private traditional China-inspired villa at the embrace of Kuaiji Mountain area, painstakingly constructed from original Hui pieces from Ming and Qing dynasties.
Price: Starting from ~USD 510 per night
Qiushuli Blossom Hill
Best for: Off-the-Beaten Chic Sojourn
Location: Nanxun, Zhejiang, China
Dubbed the "Hidden Book Town", the less known Nanxun has preserved much of its original architecture and heritage as Jiangnan's wealthiest water town. Top it off with a stay at the former ancient garden villa of Liu Geng Gan, Nanxun's richest person. The villa has been stylishly restored by French designer, Thomas Dariel into a heavenly abode. 
Price: Starting from ~USD 100 per night
Here is a simple quick reference to everything you need to know about the travel bubble.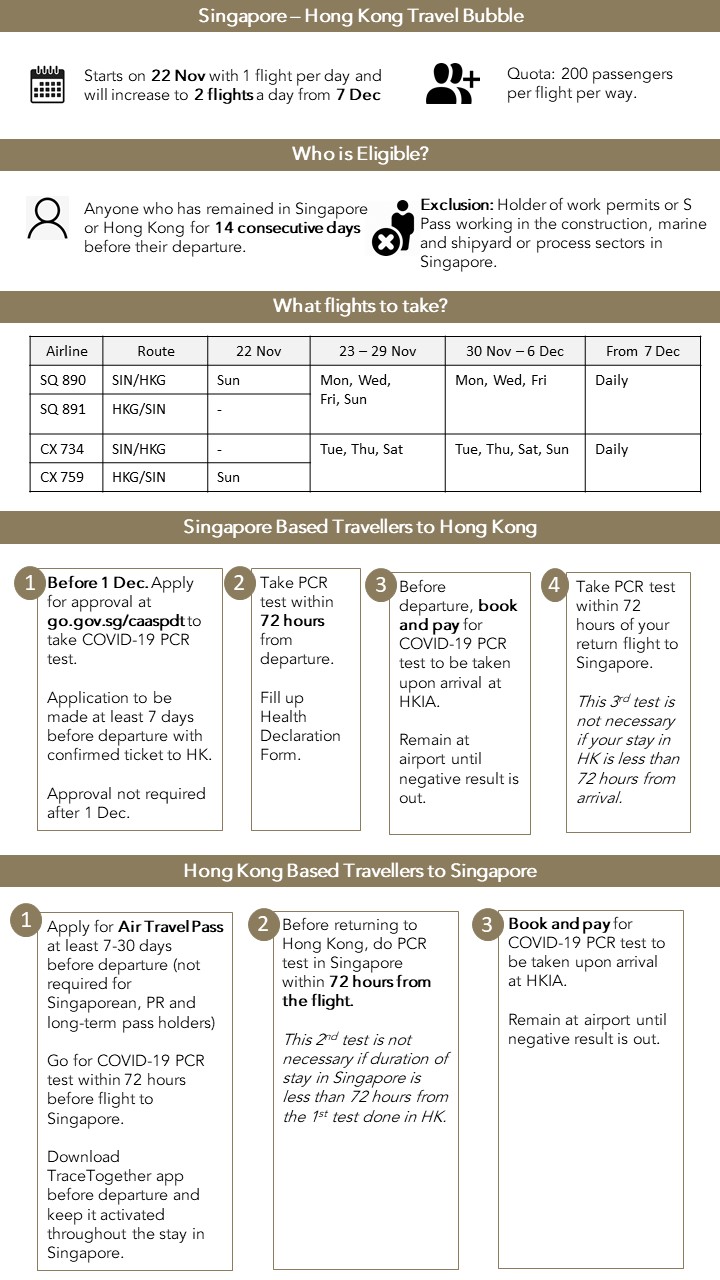 We are always in search of great staycation deals, especially when there is an upcoming celebration, birthday or even for some 'home away from home' time! However, the burning question remains as "How do we make sure that the deal we are looking at comes with the best value?"
Take a look at 3 reasons why preferred partners should be your go-to option when planning a staycation.
Debunking the "It's More Expensive" Stereotype!
Direct bookings with online travel agencies typically come with a 'what you see is what you get' deal. This is one aspect where preferred partners yield as a better option because you receive a better value for the similar if not the same deal you would get from direct booking.
Take our Spa-Date at Andaz Singapore Staycation deal, where you will be able to bag a "Stay for 3 nights, pay for 2" value. This deal not only comes with daily complimentary breakfast for two but also with US$100 credit for spa or F&B during your stay. To top it off, it comes with a room upgrade too.
Additionally, if you are an avid traveller who enjoys collecting loyalty points, did you know that you can double the points you collect? Here's how!
When you make a booking through preferred partners, your booking transactions are charged directly by the hotel. This allows you to reap the benefits of our value-priced package while being able to build up your hotel loyalty points. To double that perk, you would also be collecting your credit card points if that is your mode of payment. Now here's an attractive advantage that sets booking from preferred partners apart from online travel agencies.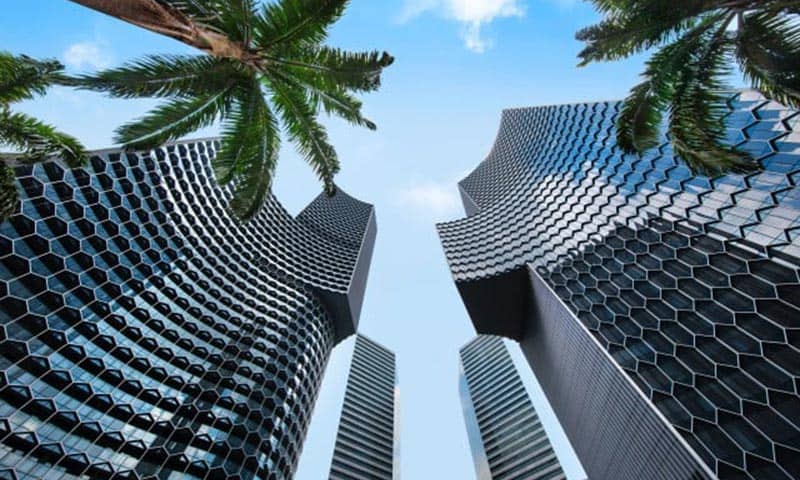 All You Have To Do is Check-In!
Choosing a staycation or getaway can be complicated, so leave the planning to us. As preferred partners, we are your personal planner to handle the nuts and bolts of planning your staycation for you. All you have to do is to have your bags packed and ready to check-into your staycation!
Preferred partners also shed light on the different options available that best suits your travel intentions. Whether you are having a family bonding time or a couple's getaway, our expertise and vast knowledge in the industry positions us as the best planners to better guide you with your travel plans.
Moreover, we are also your representative. We do the groundwork to make things happen for you, from dedicating long hours in communicating your preferences and requests to the hotel management to overseeing that they are all met. This saves you the hassle of liaising with the hotel directly, which can sometimes be rather time-consuming.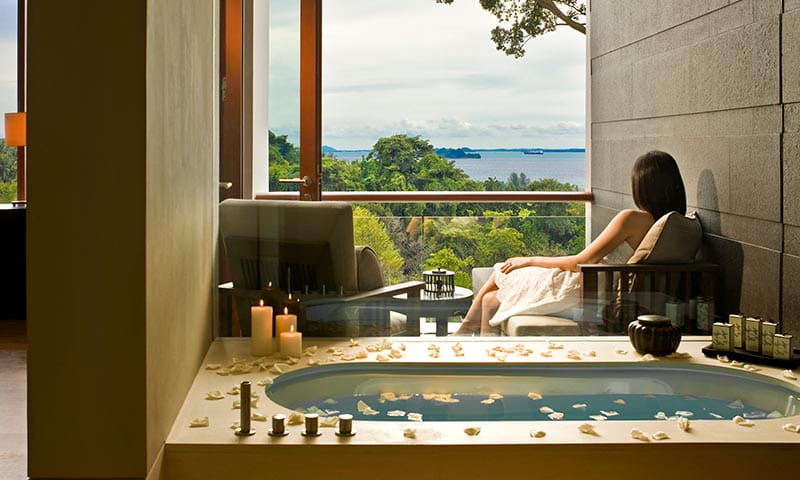 Who Doesn't Love VIP Treatment!
Booking through preferred partners indefinitely flags your booking with a VIP status – yes, you are more than just a booking number to the hotel. This ushers personalised care by hotel staff and even managers with a string of delightful surprises made available for you.
These VIP perks come with customising welcome amenities to your liking. Suppose your room comes with a minibar, we can have it stocked with snacks and drinks of your choice. We can personalise room decoration before your arrival, should the nature of your stay be for a celebration. These little surprises and arrangements go a long way in creating a memorable stay for our guests.
Add a touch of sophistication to your stay, with these value-added experiences and more. Leave the planning of your next staycation in the hands of a preferred partner today!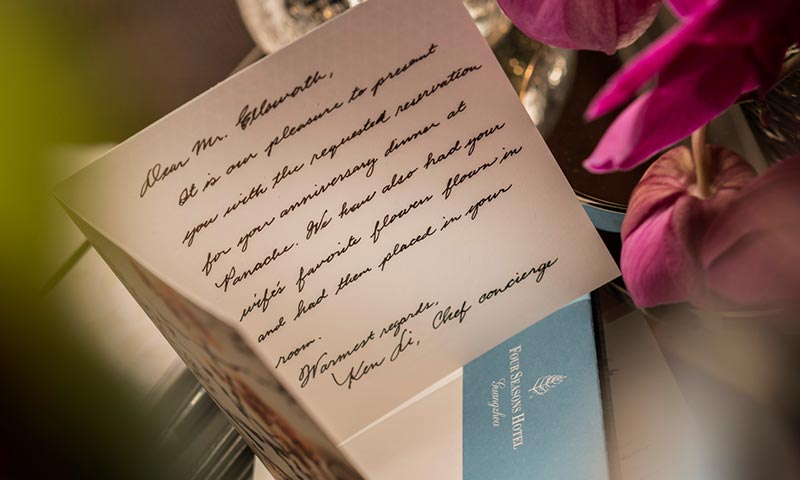 Who are Preferred Partners?
With over 1000 travel agents in Singapore catering to our travelling desires with promotional deals and getaway packages, there are a little over 6 agencies that are among the Preferred Partners pool. They have an established relationship with a circle of premium and luxury hotels in Singapore. These hotels include the Four Seasons, Mandarin Oriental, The Grand Hyatt, Capella, and more. It is through them that you get to enjoy extravagant values and experiences through prestigious staycation packages.
Trusting a good travel agent with planning your staycation means having a stress-free package deal! The nuts and bolts of planning can be a hassle to some, this is where the expertise of travel agents saves you from the trouble of working out all the fine details of your stay.
Travel agents make sure your accommodation matches up with your preferences, we at Intriq Journey, go the extra mile in incorporating exceptional experiences to your staycations. Through the strong relationships forged with luxury brands in Singapore such as Capella, Raffles, Mandarin Oriental, Shangri-la, Four Seasons and more, planning your stays through Intriq Journey allows you to be more than just a booking number. With us, your booking invariably gets flagged with a VIP status, ushering a first-tiered staycation experience with better room assignment and personalised care from the respective hotel's staff and managers.
Journeying with Intriq……
As a luxury travel agency, we shape lasting travelogue memories for our guests through personalising their travel itineraries – be it for an exotic destination or an enchanting staycation within our sunny island itself!
While we make planning for your staycations a breeze, we are also here to eliminate unpleasant surprises such as unexpected hotel cancellations which is becoming especially common given the current COVID-19 situation. In such situations, we are skilled at pushing the right alert buttons to speak with the hotels directly, preventing our guests from being stranded.
Journeying with Intriq ultimately allows you to save your time and effort in planning the perfect getaway. Simply state your trip desires and preferences, and we'll work our magic in proposing suggestions that meet your specific requirements which are wallet-friendly to your budget.
Intriq, with a Cherry on the Cake….
Much like how travel agents use their expertise to help you find steal priced deals to add to your package, at Intriq, it is topped off with value-added experiences as well.
From complimentary breakfasts, room upgrades to credit use of US$100 during your stay, we ensure that you get the most out of your trips. As avid travellers ourselves, we understand the anticipation of checking into your rooms earlier and snuggling in the comforts of your hotel room, wishing for a snooze on the check-out time. We make them all possible for you! The flexibility of the timings are just among some of the exclusive offers that makes the icing on the cake to our staycation packages!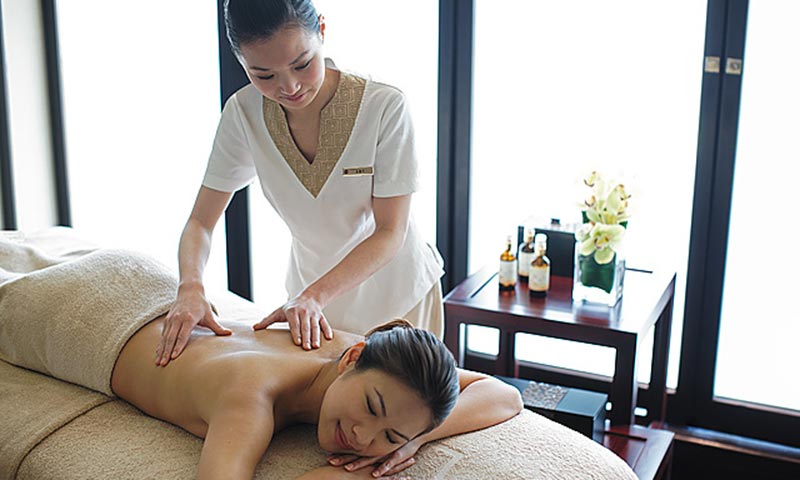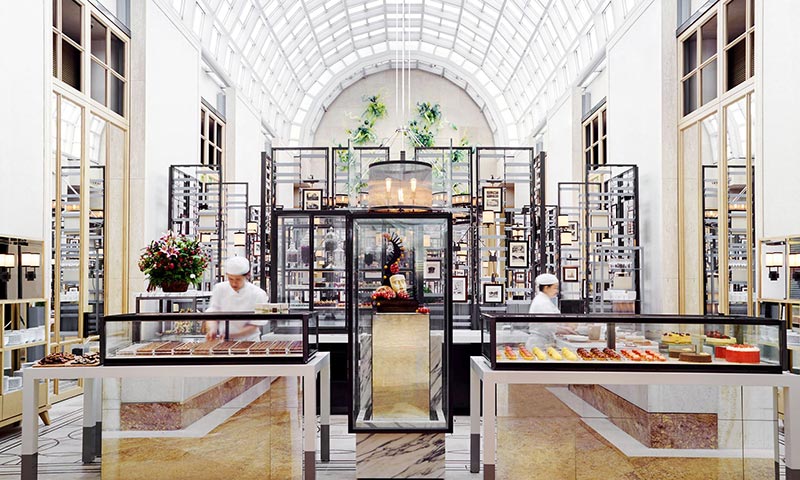 Check-in with Intriq's Staycation Deals! 
Spa-Date with Andaz Singapore
Relax, refresh and recharge with a staycation where you can indulge in a retreat of self indulgence. Pamper yourself with a 3-night stay at Andaz Singapore with complimentary breakfast for two and US$100 credit for Spa or F&B.  Choose from a King Bed Room from S$659* or a Studio Suite from S$1130* during your stay. Enjoy the perks of choosing a room upgrade to a City View, engulfing the illuminating skyline of Marina Bay. *Price includes tax.
With talks of travel bubble between Singapore and Hong Kong underway, we are getting excited on the possibility of visiting Hong Kong very soon, and our team has put in their insider recommendation on where to eat and play in the "Pearl of the Orient".
STAY
Rosewood Hong Kong
Grand Harbour View Room: Stay 3 Pay 2 > S$1,900 for 3 nights stay inclusive of tax (non-refundable)
+ Complimentary full breakfast for two guests per room
+ US$100 equivalent F&B/spa treatment credit to be utilized during stay
+ Upgrade on arrival, subject to availability (excluding signature suites)
+ Early check-in/late check-out, subject to availability
St Regis
Deluxe Room: Stay 3 Pay 2 > S$1,140 for 3 nights stay inclusive of tax
+Daily breakfast for two guests at Run Restaurant
+US$ 100 equivalent F&B/spa treatment credit to be utilized during stay
+Room upgrade subject to availability upon arrival
+Early check-in & late check-out
+Free cancellation by 11.59pm 1 day before arrival
Peninsula Hong Kong
Deluxe Courtyard Room: Stay 3 Pay 2 > S$1,620 for 3 nights stay and inclusive of tax
+ Daily full breakfast for two per room.
+ US$100 F&B/spa treatment credit per stay
+ Upgrade on arrival, subject to availability
+ Early check-in/late check-out, subject to availability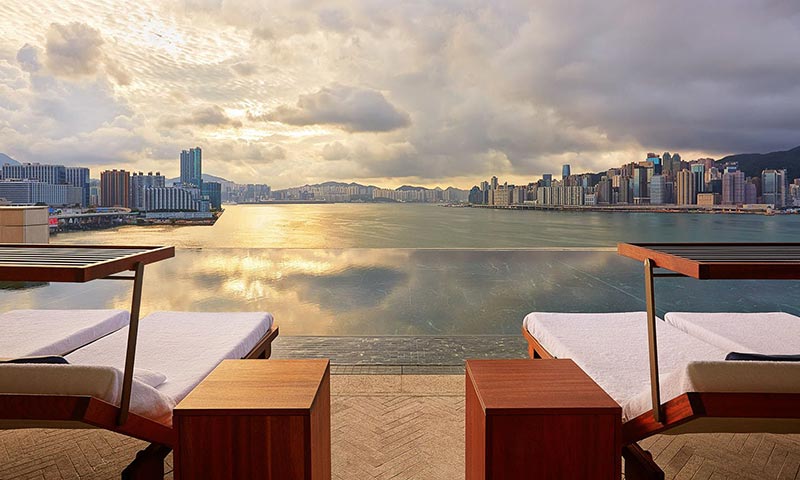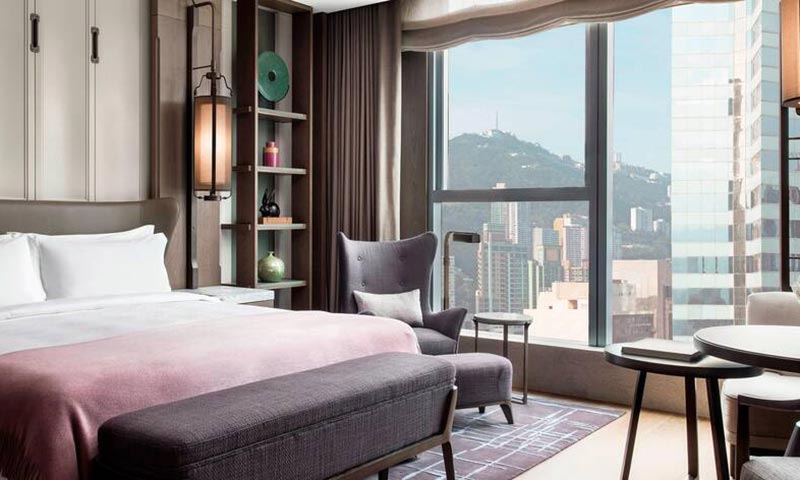 EAT
Yum Cha literally translates to "drinking tea", and this is a time-honoured tradition in Hong Kong. It is a typical affair for family and friends to gather and catch up over a pot of good brew, dim sum and other Cantonese dishes. With so many places to yum cha in Hong Kong, let us introduce you to three very distinctive ones.
Yum Cha
The restaurant has two outlets, Tsim Sha Tsui and Central. Offering a playful twist, expect to see dishes presented in cute and fun looking Instagram-worthy creations. Despite the presentation, the restaurant does not compromise on taste, and the dim sum is still very delicious. *Note: Don't confuse with Yum Cha Singapore, they are not the same entities*
Lin Heung Tea House located at 162 Wellington Street, Sheung Wan.
A complete contrast to Yum Cha, this is a very traditional restaurant that has been serving piping hot dim sum for the past 93 years. Dining here is like travelling back in time with its retro setting. Be prepared for the aggressive and poor attitude from the service staffs. The restaurant was initially due to close down due to a renewal lease issue but was ultimately spared.
Run Restaurant at St Regis Hotel
If cutesy and traditional is not your cup of tea, Run Restaurant is probably a home run in terms of high quality of food, presentation, service and design.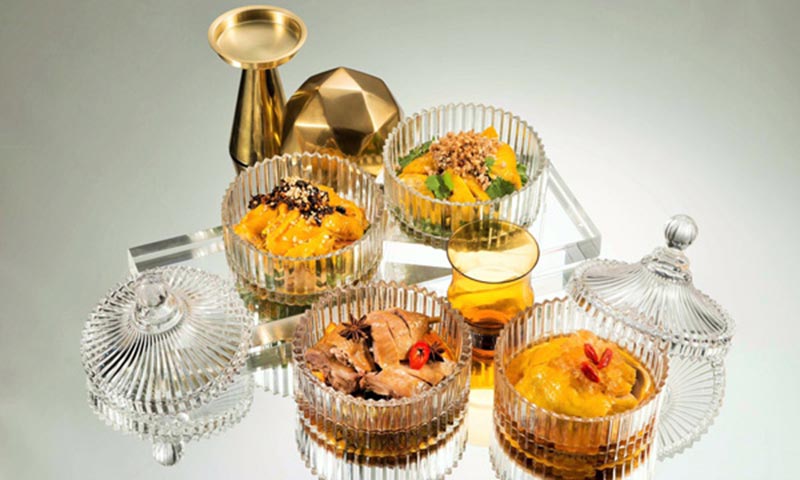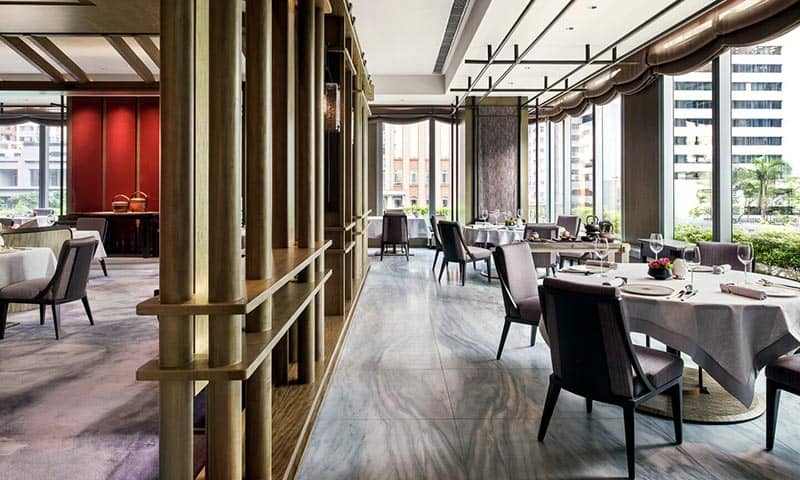 Hong Kongers seem to have a liking for dessert (糖水), and it is common for dessert stalls to open late into the night. One of our favourite dessert shops in Hong Kong is 许留山(Xu Liu Shan). With many outlets in Hong Kong, they are the one who started the entire Mango Pamelo Sago craze, and the brand has also opened an outlet in Singapore.
For a hearty and rowdy atmosphere packed with flavourful Cantonese dishes, head to Tung Po Kitchen located at 99, 2F, Java Road Municipal Services Building, North Point. Situated in a cooked food centre, this is Singapore version of "zi-char", owned by chef Robby Cheung, with a big personality.
Alternatively, if you prefer a more comfortable environment, head to The Chairman at 18, Kau U Fong, Central, listed as Asia's 50 Best Restaurants. After the meal, take a 15minutes walk to IFC Mall and head to Dear Lily, a romantic and dreamy hole-in-the-wall restaurant and lounge bar for a drink and for some great Instagram moments.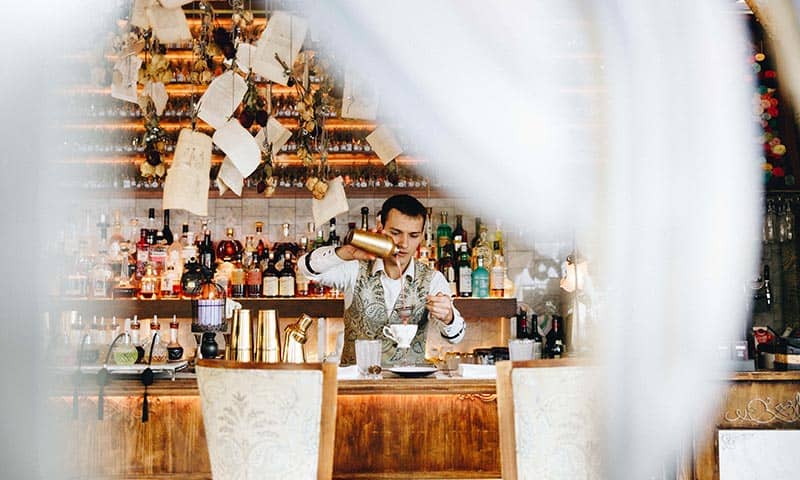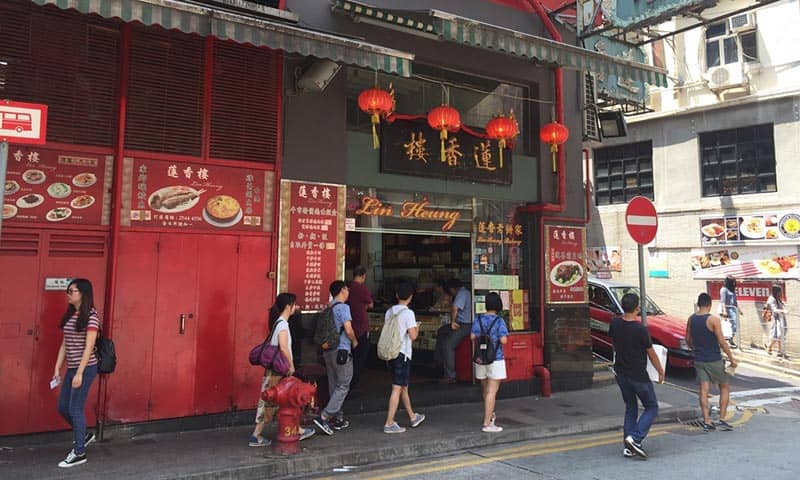 PLAY
The Mills
Located in Cheung Fung Industrial Building, a creative boom has turned the abandoned Nan Fung textile factory into a business incubator for the young entrepreneurs. This revitalized space now offers experiential retail and dining, and a non-profit cultural institution for visitors to know more about the city.
A similar project is PMQ located at 35 Aberdeen Street. It was once a Central School before it was used as the Police Married Quarters. Today, PMQ has transformed into another creative landmark with unique retail, culture and dining scene.
Hong Kong hilly and mountainous terrain offers visitors so many hiking routes that it is sometimes difficult to decide which one to tackle. The more accessible and perhaps most popular is the Dragon Back, 4 hours easy to moderate hike that offers a fantastic view of southern Hong Kong and its shoreline.
Further away is the UNESCO listed Global Geopark with its volcanic formations along the shoreline. Think of the spectacular Giant's Causeway in Northern Ireland. The easiest way to see the marvellous basalt columns is to take the half-day East Dam tour of High Island.
Another good option is to visit the disappearing fishing village in Hong Kong. The most popular is Tai O fishing village where you can try local treats, seafood and more hikes. For a lesser crowd, visit Tap Mun (Grass Island) where you hike through rustic fishing villages and visit a 400-year-old temple.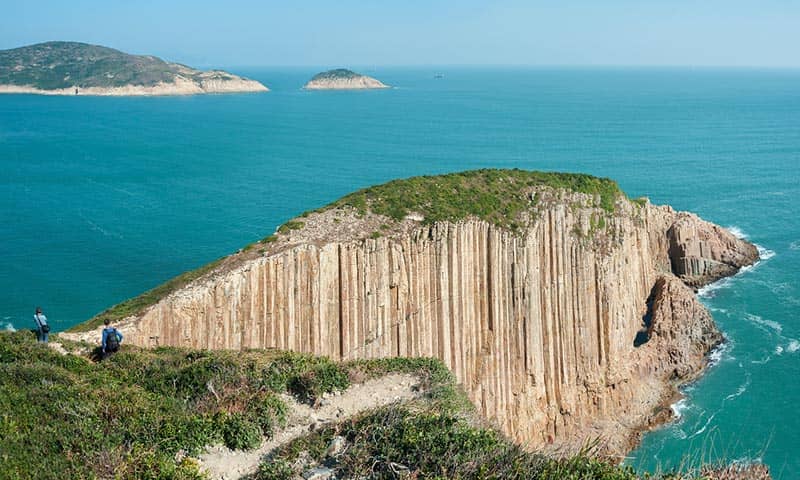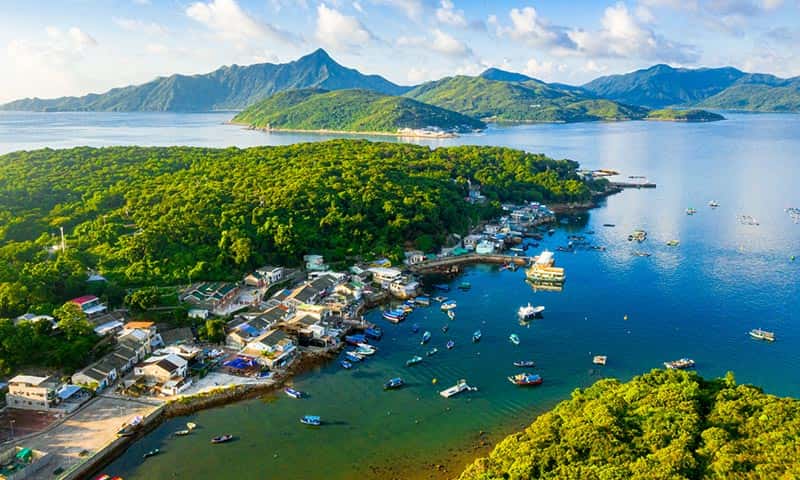 Beyond the glitzy skyscrapers, Singapore offers abundant charms and surprises on the southern island of Sentosa. Once a British military fortress, Sentosa's tropical beaches and lush natural landscapes are surprisingly steeped with history and discovery.
We have scoured through some of the most charming properties to share with you our top 5 picks for an idyllic stay in the beloved Sentosa.
CAPELLA SINGAPORE
Best for lux Balinese retreat
Artfully restored from 1880's Tanah Merah colonial bungalows with a dash of modernity, this unique hotel is beautifully set amidst verdant green canopies evoking the atmosphere of a luxurious Bali escape. Don't miss the award-winning Auriga spa and soak in the beautiful cascading pools before retreating to your ultra-spacious rooms.
Price: from ~S$866.27 per Premier Garden Wing Room + S$100 dining credit.
TIP: Before you pack your bag for your Capella Singapore getaway, register to be a member of the Discovery Program here:
Next, register your participation here to earn platinum status when you complete a two-night stay (instead of minimum 10 nights stay in a calendar year)Â  at any GHA (Global Hotel Alliance Hotel worldwide) to enjoy the benefits of Discovery Platinum Status for your future stay.
Discovery Platinum Status Benefits
complimentary water,
1 Local Amenity for Platinum members,
1 Local Experience for Platinum members,
Upgrade to next room category at check-in,
3pm late check-out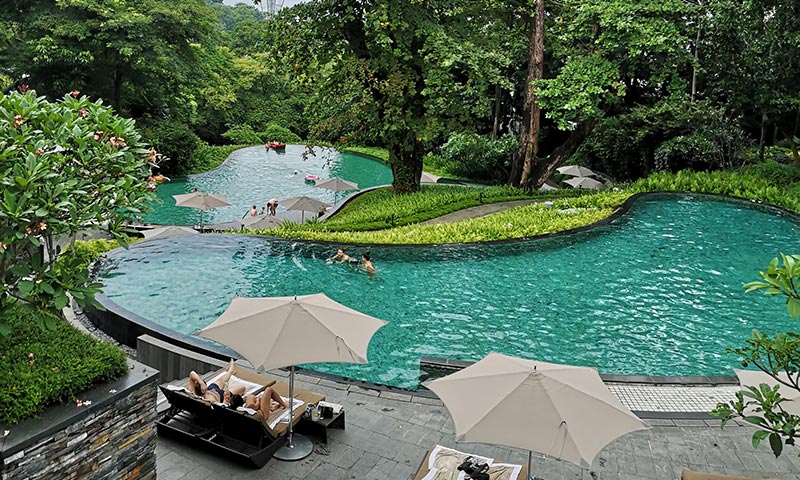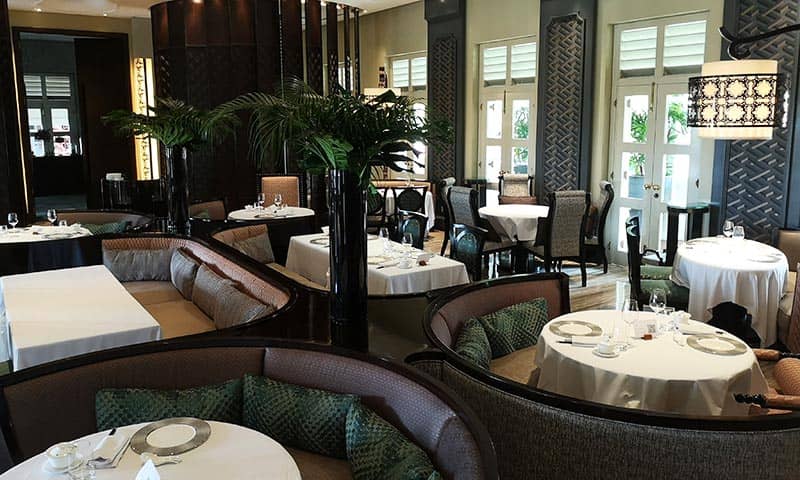 OCEAN SUITE RESORT WORLD SENTOSAÂ 
Best for sleeping with the fishes
Discreetly tucked away on one side of S.E.A. aquarium, enjoy the best of both worlds – an outdoor patio on the upper level and floor-to-ceiling windows of the 40,000 fish in the aquarium in the lower level. Sleep with the fish or, if you want, enjoy a sexy bubbly bath.
Price: from ~ SGD 1833 per night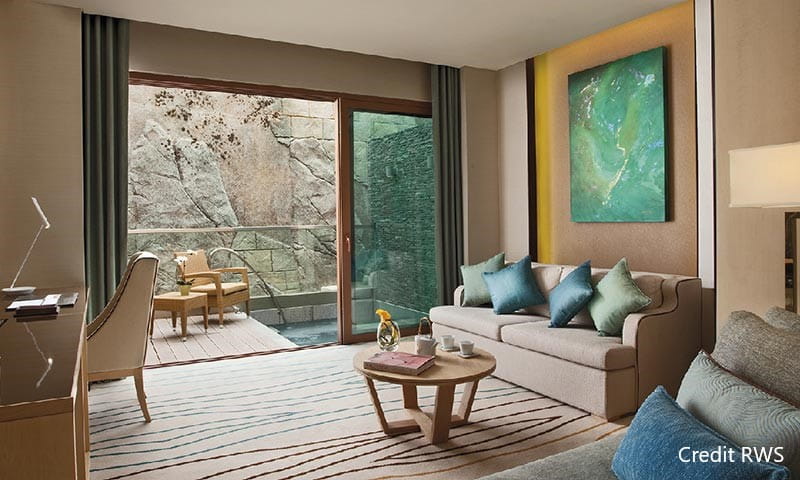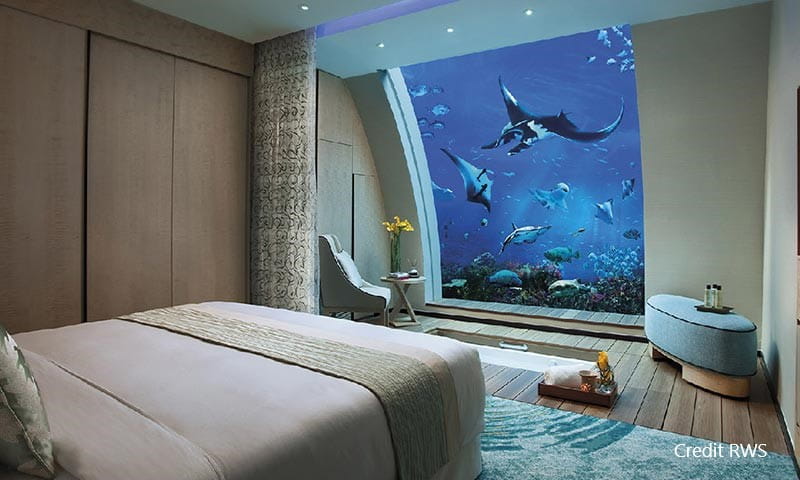 Credit: Resort World Sentosa 
THE BARRACKS HOTEL SENTOSA
Best for intimate colonial hideaway
Timeless romance takes centre stage in this quaint boutique hideaway. Owing tribute to its past as a former British artillery outpost, loving artefacts from the golden age of exploration are thoughtfully weaved into the décor. Its intimate size of 40 rooms offers ultimate tranquility and privacy far from the hordes of staycationers.
Price: from S$809.77 per Premier Room with the following inclusions:
Complimentary breakfast
Access to all-day refreshments and evening cocktails & canapés from 5pm – 8pm
Afternoon tea for 2 persons per stay with free-flow champagne coupled with a unique tea tailoring experience (valued at S$108++ for two persons)
24-hour stay (subject to availability)
One-way limousine transfer
Attractive perks such as discounts of up to 20% for selected F&B outlets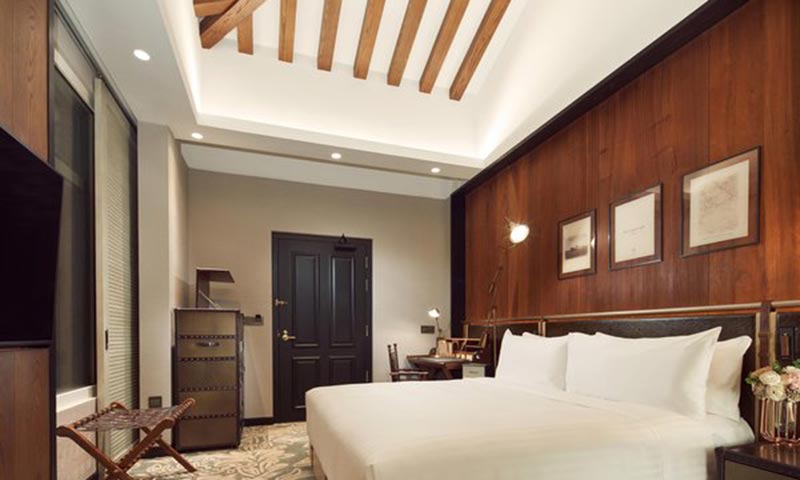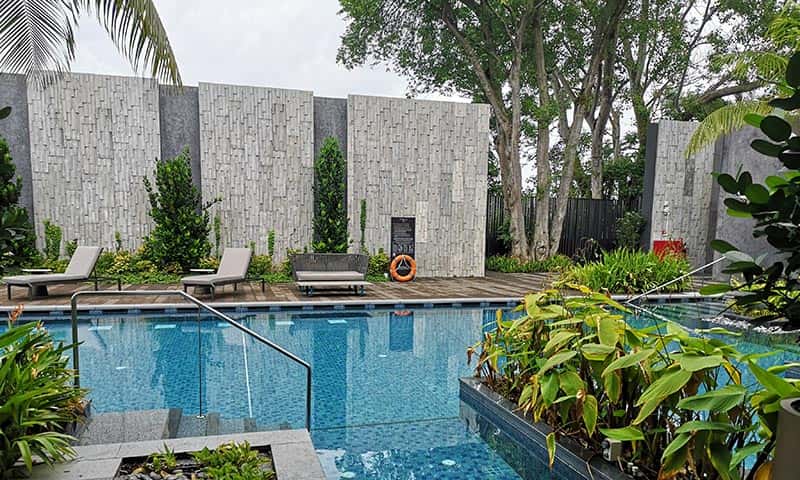 W SINGAPORE – SENTOSA COVE
Best for the state-of-the-art sojourn
Boasting a prestigious address in Sentosa Cove overlooking the marina's swish yachts, W Sentosa takes beachfront living to new heights. Eye-catching design sophistication and never-ending amenities—from in-room entertainment linked to surround-sound BOSE speakers to "Munchie Boxes" to mood lighting. This is a stay, unlike any others!
Price: from S$434 per Wonderful room + US$100Â  F&B/spa credit.
Limited Time Offer: For stays between now to December 2020, enjoy room upgrade (including Select Suites), based on availability at check-in and guaranteed 4 p.m. late checkout (T&Cs apply).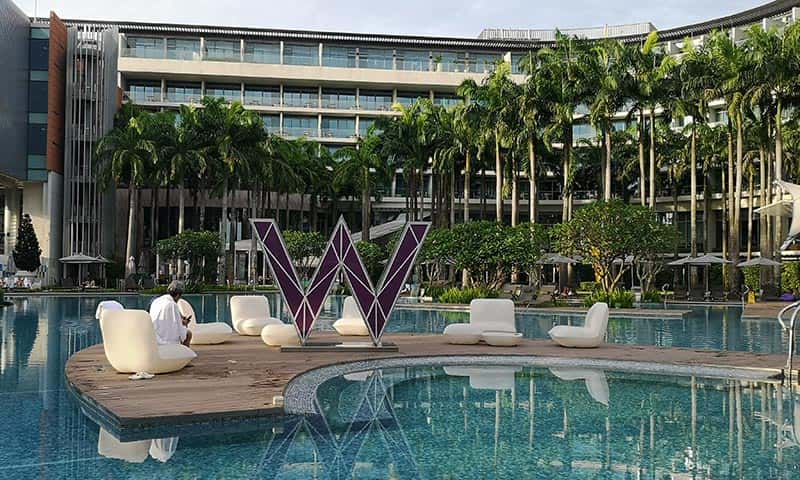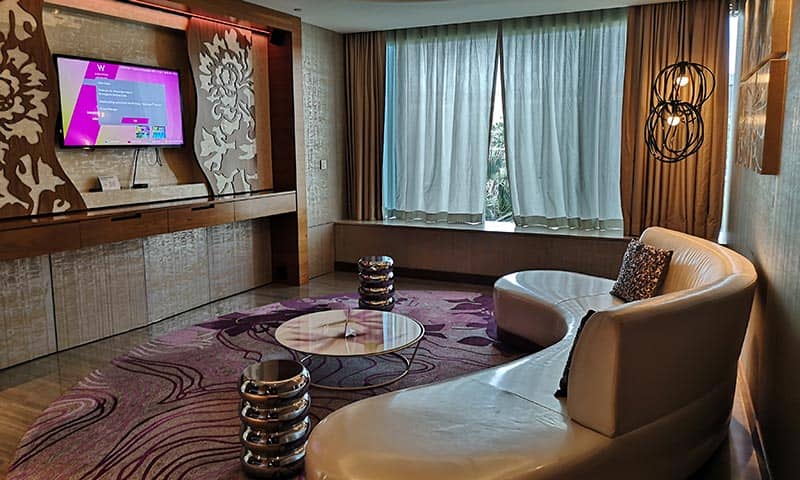 SOFITEL SINGAPORE SENTOSA RESORT & SPA
Best for Franco-Asian garden escape
Fusing elements of French and local designs set amidst an atmospheric vine-entwined garden, Sofitel embodies the essence of a garden city escape with impeccable details of leaf motifs, orchid carpeting, and ornate artsy touches waiting for you to discover. Don't miss the award-winning So SPA just next door to rejuvenate your mind.
Price: from S$398 per Luxury room including all meals for 2 adults.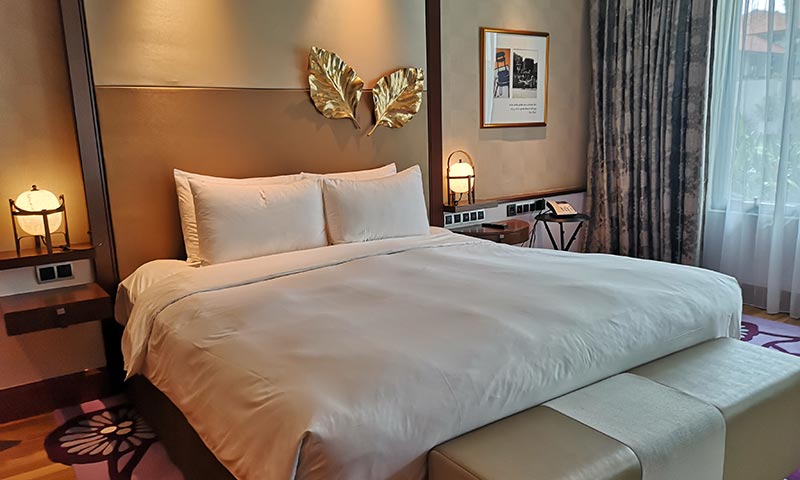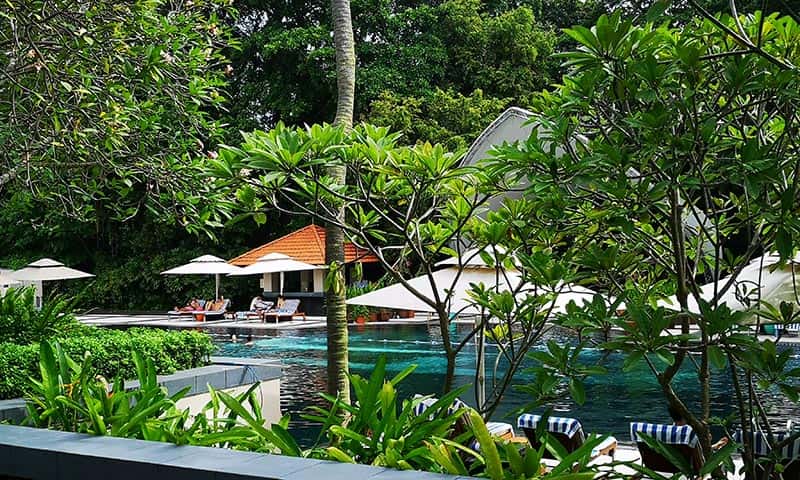 Contrasting the hustle and bustle of city life, here, you can slow down, calm your mind, and rejuvenate your senses in a refreshing way.
"In early August, I took a trip to Yunnan after Beijing was reclassified as a COVID-19 low-risk zone. I left the city to give myself a break, both physically and emotionally. I have been to Yunnan several times, and this time I chose its southern region to experience the local "wild and luxury tent" and "boutique home stay" that I had longed to try. On top of that, I wanted to avoid the peak tourism season to appreciate the World Heritage Yuanyang Rice Terraces and the historically appealing Jianshui Ancient Town."
By Stella Fan, Founder of Intriq Journey
Rice Terrace
I left Kunming for Honghe Hani and Yi Autonomous Prefecture, passing through Yuxi, Yuanjiang and the Tropic of Cancer on my way to arrive at Samaba Terrace (撒玛坝梯田).
Samaba Terrace is the single largest rice terrace in the world and is also the first World Cultural Heritage site centered around farming culture in China. With an altitude between 600m and 1,880m and an annual average temperature of 20.9 ℃, it feels very much like a comfortable natural greenhouse.
Around 2,000 years ago during the Sui and Tang dynasties, a group of Di-qiang people migrated southward from the plateau area, crossing the Red River and arrived at the foot of Ailao Mountain. Upon settling there, their way of life changed from nomadic lifestyle to farming. During the Yuan, Ming and Qing dynasties, many Han people migrated from the north to the Red River Basin due to war, the expansion of wasteland areas and other causes. With this migration came the rapid expansion of the terrace. Now, the terrace covers a total area of one million mu (~ 165,000 acres) in Yuanyang, Honghe, Luchun and Jinping counties.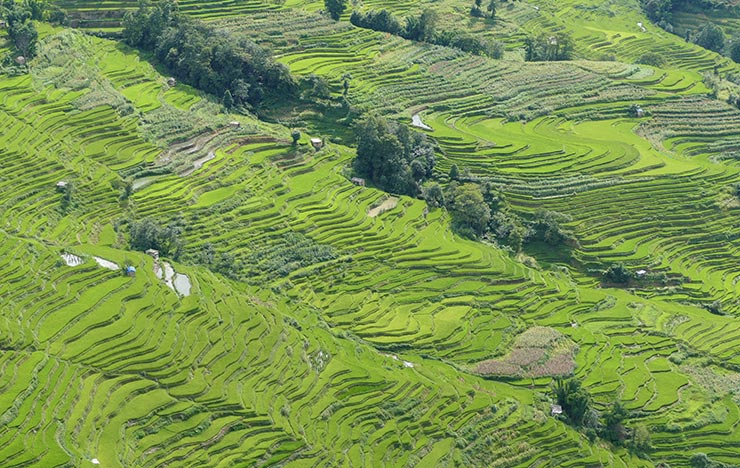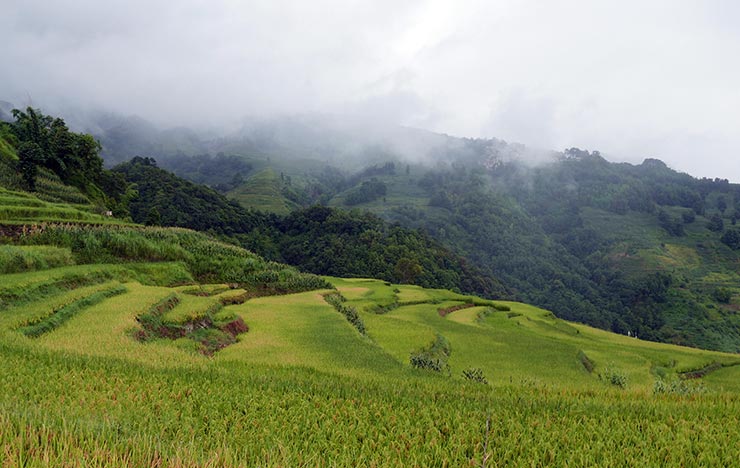 Impressive rice terraces stretch as far as the eye can see. During sunrise and sunset, the terraces shimmer with beauty as if they were colour palettes overturned by God. Their appearances also change with the seasons. After irrigation in the winter, the terraces often reflect different colours based on the time of the day.
Glamping
In the 170-year-old ancient Hani village ruins, a modern Chinese hotel group with a yearning for nature — Vinetree — designed and constructed 17 independent courtyard tents with a private bath and 5 public spaces, resulting in the Vinetree Honghegu Tented Resort where I spent 2 nights.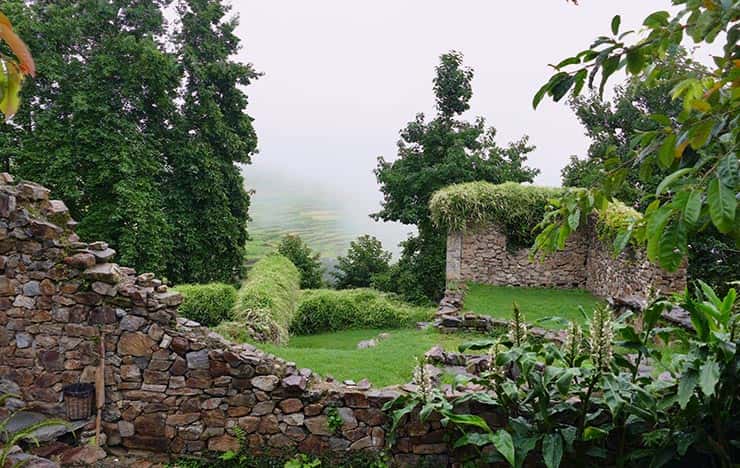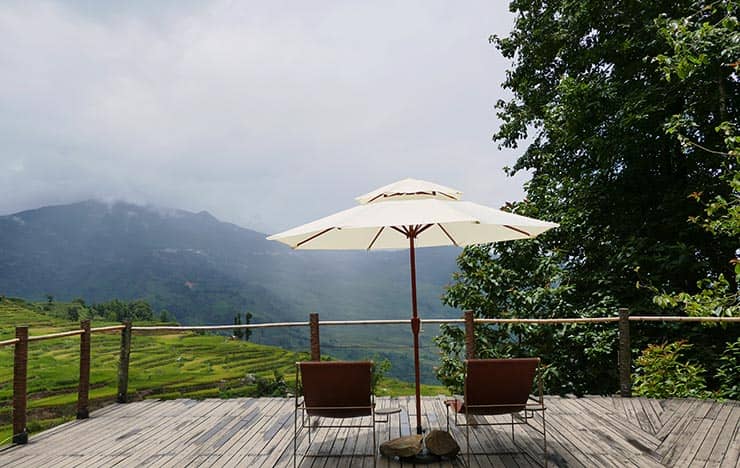 The resort is constructed within an abandoned Stone Stockade which blend perfectly into a village layout. The resort is arranged in the form of a terrace and each of the 17 independent tent is built apart, creating a unique and private space, facing the Samaba Terrace and the mountain forming the backdrop.
Tent
Detachable and removable tents are the best structures for "ecological tourism" as it can protect the original features of an area without damaging it.
The whole "tent room" is built with a steel structure and in 3 layers with zipper. Through the gauze curtain of the tent, I could see the greenery and my private bath under the trees.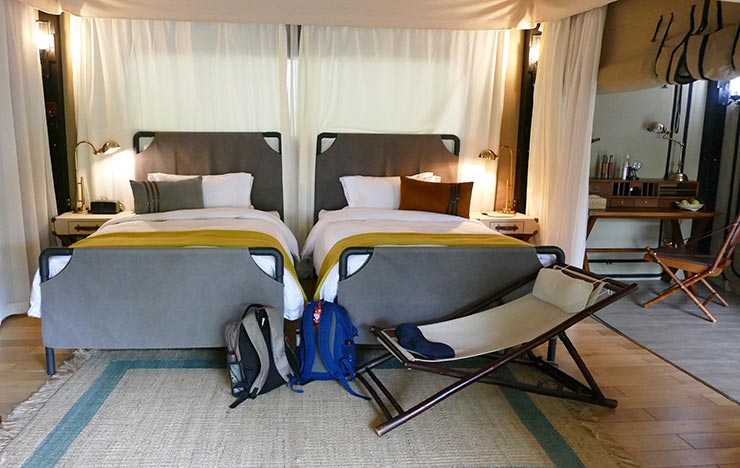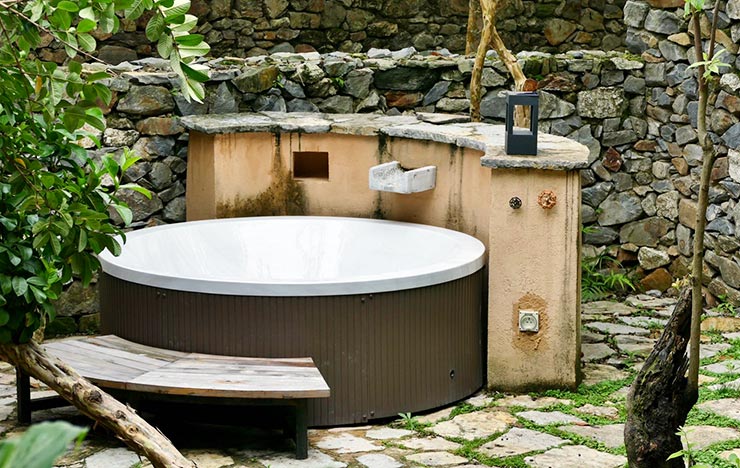 There is also a public infinity pool, with a water depth of 1.4 m, designed in the shape of a terrace ridge and naturally integrated into the whole terrace environment. It is one of the most popular places for children.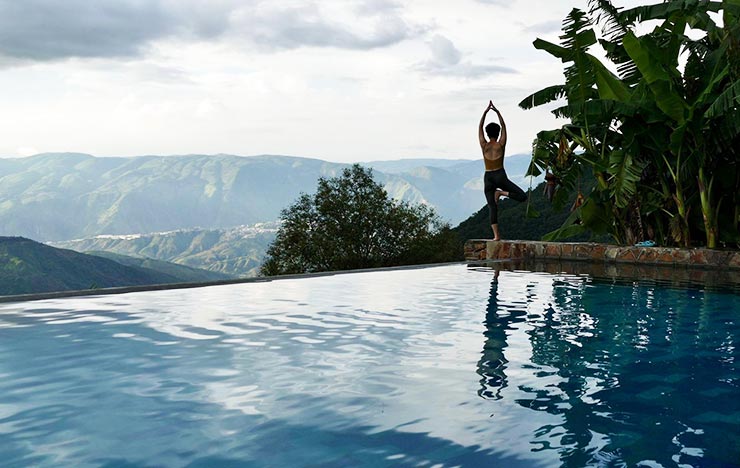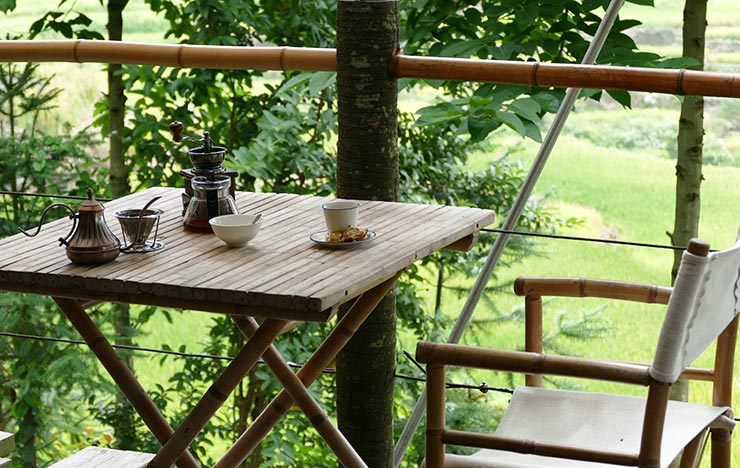 Delicious food
The hotel offers a fully inclusive package. Meals are specially prepared by the hotel using locally sourced ingredients, fresh from farm to table. Be prepared to enjoy some local specialties such as Hani dipping chicken, delicious dried beef known as Ganba, edible wild herbs, fish caught from the terrace, and red rice.
Some nights, the hotel will arrange a BBQ campfire party and it is a great social opportunity to get to know other travellers. No one thought it was crazy "to spend so much money to stay in a tent located on a remote mountain".
Hike
Around the campsite there are many places that make for excellent hiking. These little-known places are still full of pure simplicity. They highlight the ancient horse caravans trade, history of Tusi in Yunnan and the essence of Hani farming culture.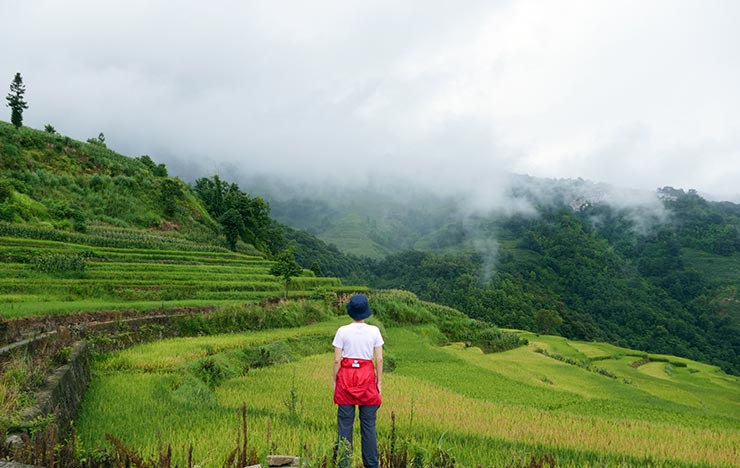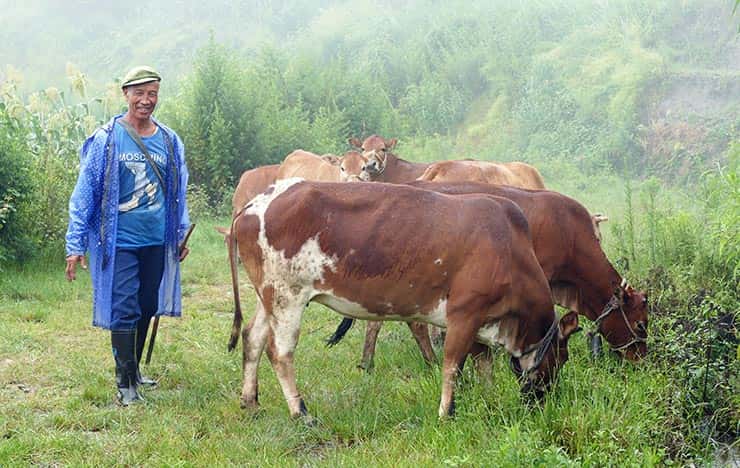 Friends
The resort employs 23 native Hani, including a few who are not fluent in Mandarin. Unassuming, industrious, and approachable, they are our special stewards. With these experts by your side, you will have the opportunity to try your hand at cooking glutinous rice cake, catching fish in the fields, learning embroidery or walking to Meidong Village, which belongs to the Hani Ethnic Group. They can also teach you all about Hani attire and cultural dances.
Although they may not be five-star hotel trained, you can sense their sincerity in wanting to showcase their home and culture to visitors. Working in the resort allow the young Hani people to maintain close family ties while staying connected with the outside world.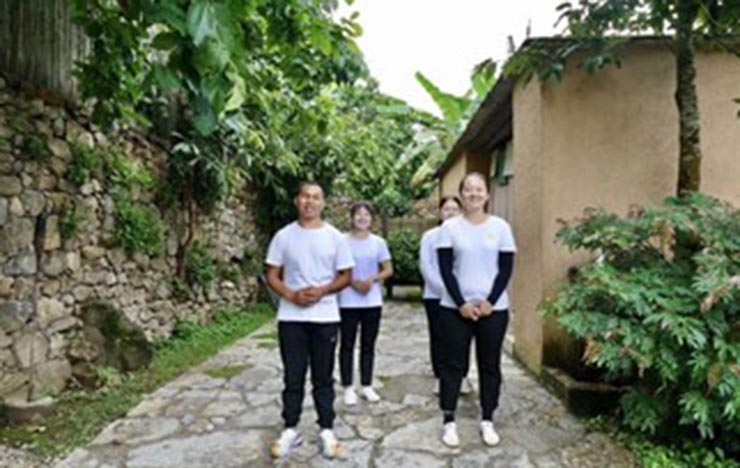 "Vinetree ideology is closely aligned with Intriq Journey. This is a world-class tourism village revival model and a prime example of sustainable ecological tourism in China. It balances accessibility and distance from the world, luxury and nature, development and inheritance. It is completely on par with tentage accommodation in other countries."
By Stella Fan, Founder of Intriq Journey
Lively Hani Mushroom House
Continuing my journey, I left Vinetree Honghegu Tented Resort and drove to Azheke Village (阿者科哈尼村) of the Hani Ethnic Group in Yuangyang for a night. With an altitude of 1,880m and 200-year history, the Azheke Village is part of the third group of traditional villages to be recognized nationally. This remote village has not been excessively commercialised, so not many visitors go there.
Hani people believe that "people's lifeblood is the land, the lifeblood of the land is water, and the lifeblood of water is the forest and trees". Villages of the Hani Ethnic Group is tightly integrated with forests, terraces, and bodies of water, forming a complete ecosystem.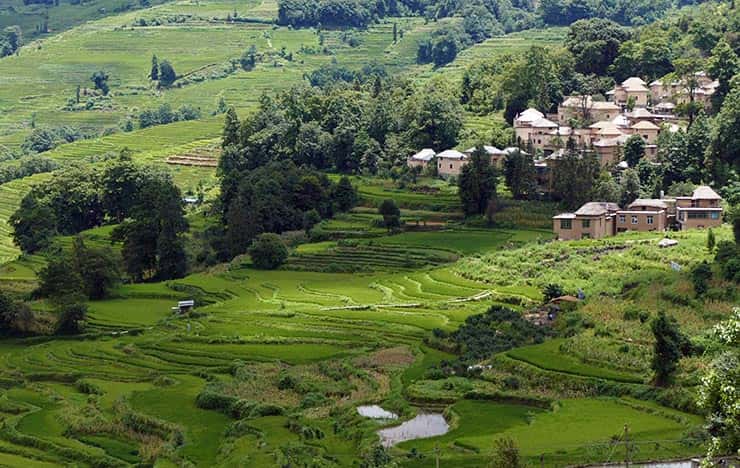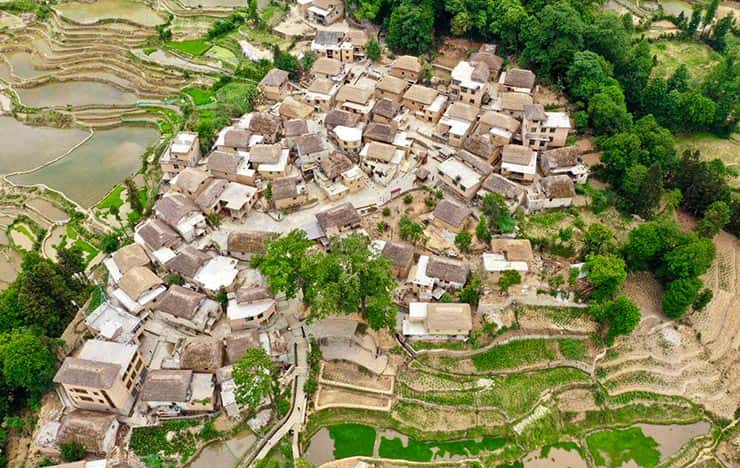 There are still more than 60 Hani "mushroom" houses in this village. Due to the uniqueness of their structure, the mushroom houses are neither cold in winter nor hot in summer. A mushroom house is three-storied: The ground floor is used to keep horses and cows and store grain carriers, plow harrows and other agricultural tools; the top floor is used to store cereals, firewood and others; and the middle floor is a living space available for cooking, resting, and receiving visitors.
In the village, chickens and ducks roam freely. Villagers carry baskets with vegetables, work the land, take care of children, and cook. Children can be found climbing trees and playing in the field. Under the trees are green paddy fields. The whole village is a lively organism.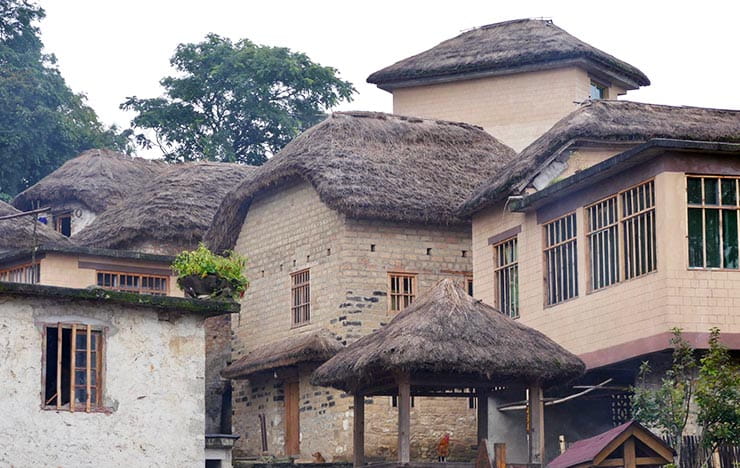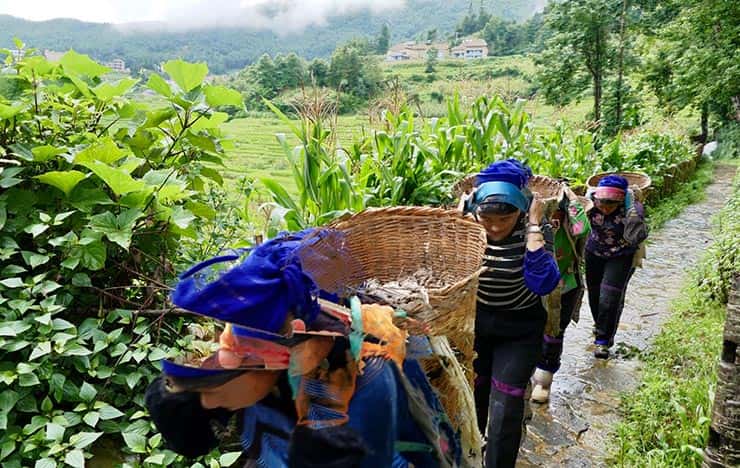 You can enjoy coffee in a cafe set up in a mushroom house, but outside, it is still the rooster's domain.
If Vinetree Honghegu Tented Resort is positioned as a boutique hotel, then Orieco Club Mulaya Hotel, about a 3-hour drive from the valley, is a typical B&B hotel that I spent a night in order to visit the Azheke Village. The hotel is in the heart of the Hani Terrace Cultural Heritage site.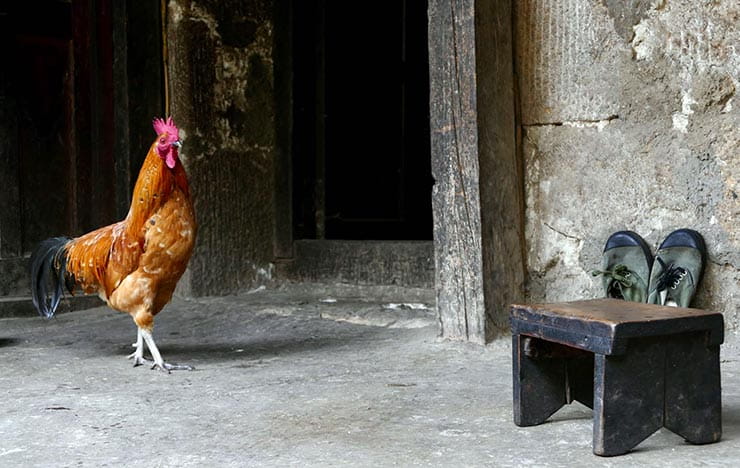 Living in History
I drove for around 3 hours from Orieco Club Mulaya Hotel to Jianshui Ancient Town (建水古城) in the north. This town forms an equilateral triangle with the Red River Valley and Yuanyang.
Jianshui Ancient Town, founded in the Tang Dynasty, is in southern Yunnan and borders Vietnam and Laos. It has a history of more than 1,200 years and was an important transportation hub in the Ming Dynasty. Presently, there are still more than 100 buildings and dwellings with characteristics that can be traced back to the Yuan, Ming and Qing dynasties.
The Zhaoyang Tower (朝阳楼) resembles Tian An Men in Beijing and this is where elderly men walk their birds in the morning.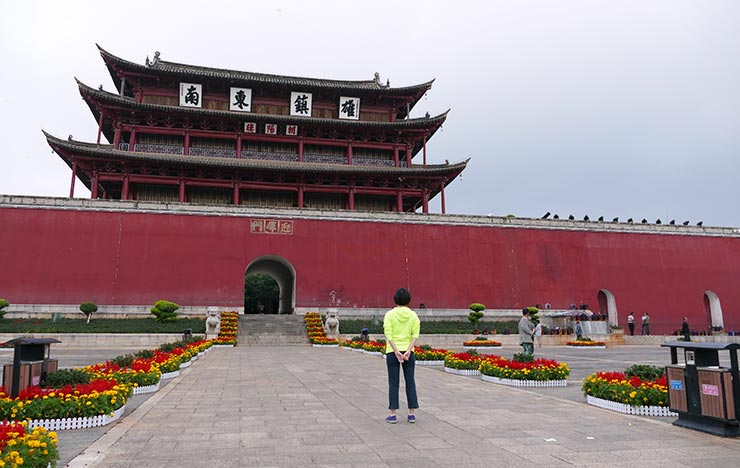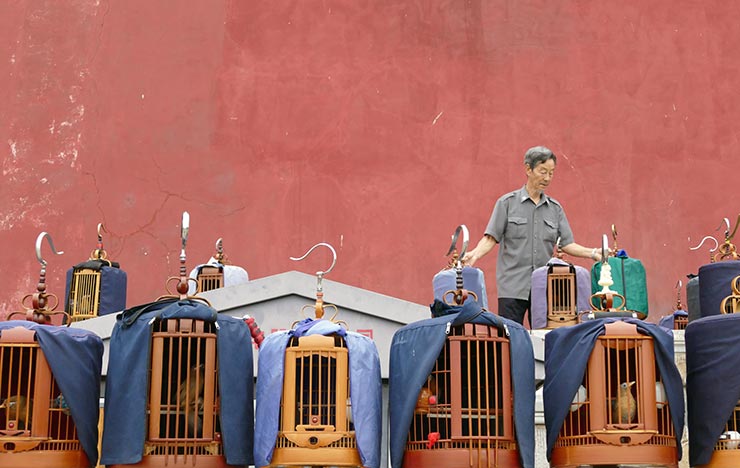 The Shuanglong Bridge (双龙桥) with 17 arches and a tower is a great dating spot for young people.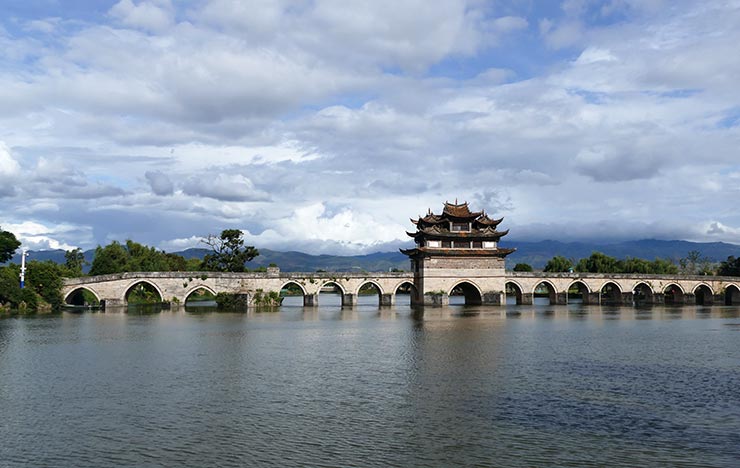 Ancient dwellings in Tuanshan Village (团山村) have been passed down for over 30 generations and it is where the Zhang family clan members still go about in their daily lives. The scarred stone well in the village continue to provide drinking water for the residents for hundreds of years.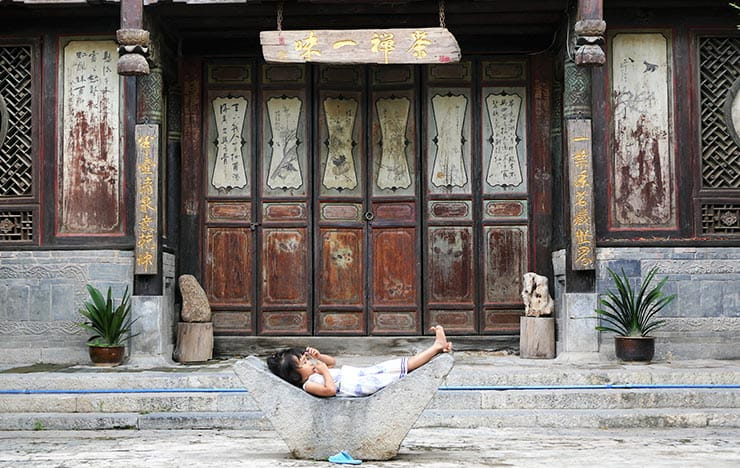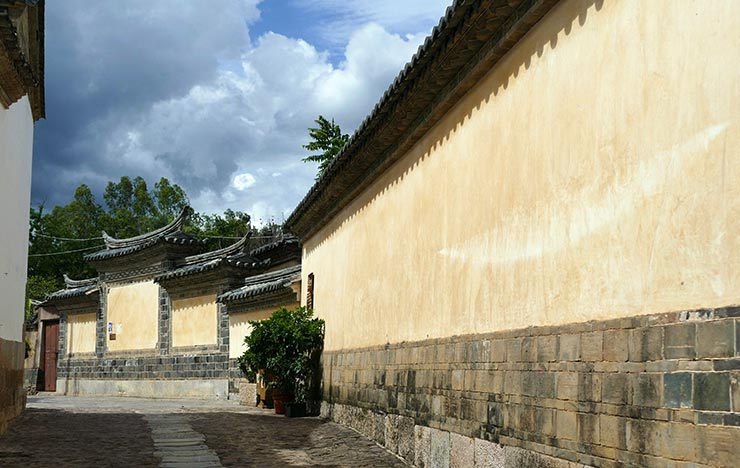 One can also find an examination hall that was built in the late Qing Dynasty, the French-style Xianghuiqiao Meter-gauge Station, the Garden of the Zhu family, which took more than 30 years to construct, a photo of Auguste Francois, Consul General of France in Yunnan… All these transport us into the turbulent world in southwestern China during the late 1800s and the early 1900s.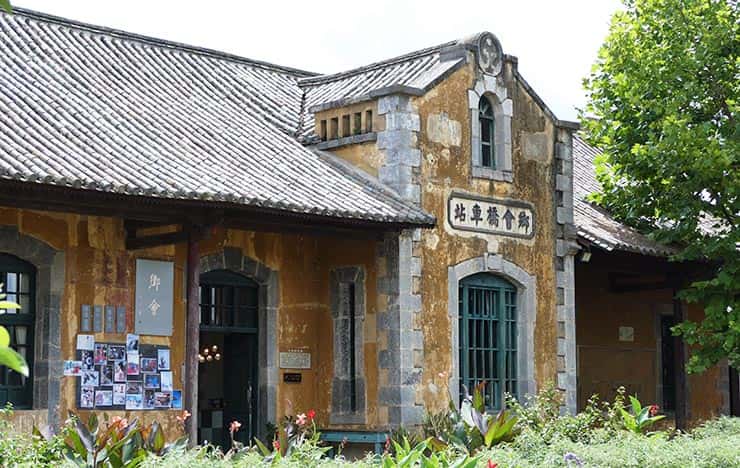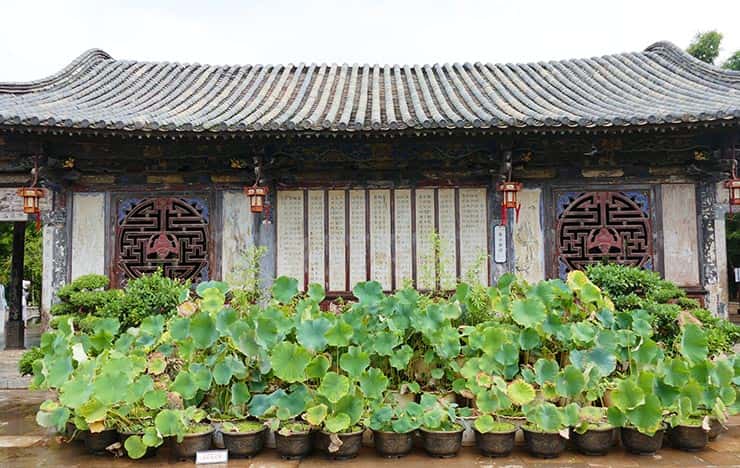 Tingziyun Hotel (听紫云), my lodging in Jianshui, is a mansion belonging to Huang Jin of the Qing Dynasty. In this bustling town, the typical Southern-style quadrangle courtyard stands quietly and aloof from worldly strife. Pomegranate, bananas, lotus, and bamboo adorn the ancient courtyard. People living here can feel the change of four seasons without even stepping out.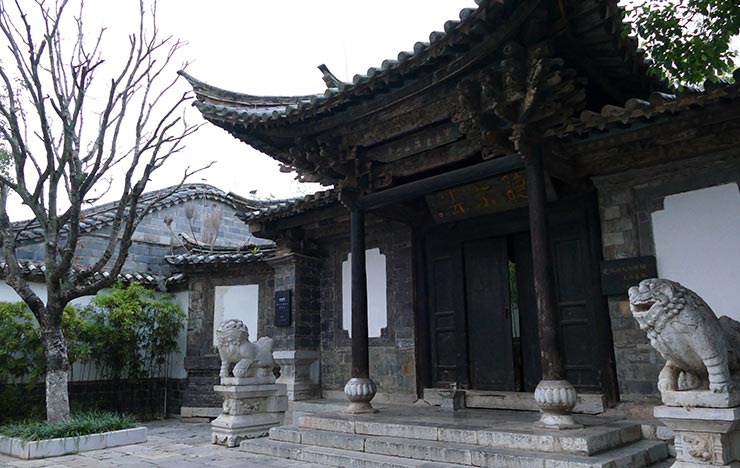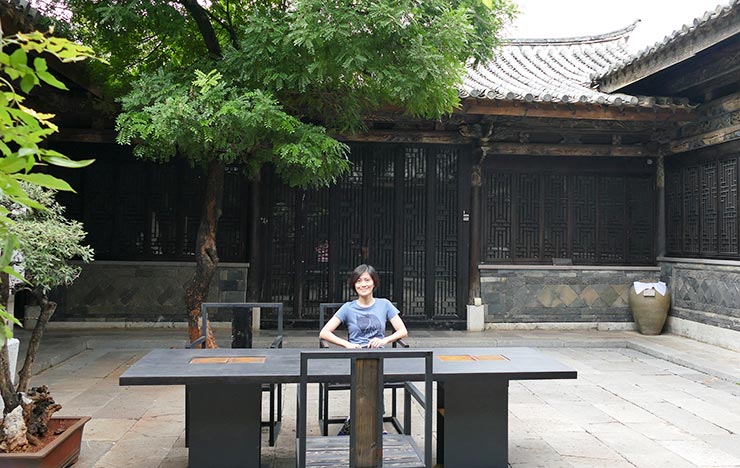 The interior features traditional Chinese furniture and decorations, which is both modern and comfortable. The courtyard is full of ancient elements that can calm your mind at once.
Lin Di, designer for Tingziyun, said that they individually marked, cleaned and put back the original bricks and tiles in the ancient dwelling to retain the original architectural style and recreate its original appearance as much as possible. Such intense attention to detail is present throughout the three-year reconstruction process. Lin Di said that the biggest thing he did for Tingziyun was "doing nothing". I agree.
With border still closed, other than a staycation, what else can one do to relive travel? Well, renting a yacht is another fantastic idea – to get away from the bustle of the city and enjoy the open space of the sea and sky!
The winds howling in your face. Vast expanse that goes on forever behind your shades. Unbelievable landscape that doesn't belong to Earth. It is easy to feel that you are all alone in Salar de Uyuni, the world's largest salt flats at over 10,000 km2 and undisputedly the highlight of any visitor to Bolivia.
Just fly there
With multiple daily flights connecting Uyuni with La Paz, Bolivia's capital, the one-hour-long flight is clearly the better choice compared to the overnight buses which take over 10 hours.
Different seasons for different reasons
With rain turning Salar into a giant mirror, visiting it during the wet season from December to April set up the beautiful landscape with amazing reflections. During the dry season between May and November, the same area becomes endless white flat land, perfect for hilarious perspective photo opportunities. The clearer skies also make for better stargazing experience.
The incredible sights
Three days are enough to cover Salar de Uyuni; it's also possible to travel onwards to San Pedro Atacama in Chile (a great destination in itself) instead of returning to Uyuni with the same amount of days. If you are short on time, there are shorter one or two-day options which return to Uyuni too.
Salar de Uyuni – Depending on season, the salt flats either become a canvas for picture-perfect mirror-like reflection or a backdrop for interesting perspective photographs.
Colchani Salt Factory – You can learn about the traditional method of extraction and refinement at the local salt factory on the way to or from Salar de Uyuni.
Coquesa – Site of ancient burial grounds at the northern edge of Salar de Uyuni, you can also hike up Thunupa Volcano from there.
Inkawasi (may be inaccessible during wet season) – This former island with giant cacti grown all over was turned a rocky outcrop of land located in the middle of the salt flats after prehistoric lake dried up. It provides a nice break from the flat terrain and an elevated viewpoint of the horizon.
Eduardo Avaroa Andean Fauna Natural Reserve – For those heading towards San Pedro de Atacama, you will pass through this beautiful nature reserve. It has amazing scenery and many opportunities to spot alpine animals such as vicuñas en-route. Stops include Laguna Colorada or Red Lagoon, home to several species of flamingos, Sol de Mañana geyser where intense volcanic activities can be seen and Laguna Verde or Green Lagoon, an emerald-coloured lake which is framed by Licancabur Volcano.
While traveling in Salar de Uyuni used to be a basic affair, it is possible to visit in style now with the following recent developments.
Mobile luxury with private guide and chef
Traveling around Salar de Uyuni in the deluxe Airstream camper, with your own private driver, guide and chef, is probably one of the most magical experiences around the world. Equipped with modern luxuries such as private bathroom with hot water and heated thermal blankets, the Airstream campers provides a mobile and luxurious base to explore the region. Each evening, after the sundowner cocktails and freshly-prepared dinner, the staff will leave you alone to immerse in the solitude of the salt flats, underneath the beautiful galaxy of stars. This option is especially ideal for those heading to Chile after Uyuni.
The ultimate glamping experience
Opened in 2019, Kachi Lodge has six space station-like domes, each equipped with heating, private bathroom and comfortable interiors, and provides the ultimate glamping experience. Meals are included and catered by Gustu, a top award-winning restaurant in La Paz. Guests can partake in a variety of activities at the lodge, ranging from hiking a volcano, cycling around salt flats, visiting archaeological sites to stargazing with astronomy experts.
Written by Intriq Journey
Georgia
"Imagine many centuries ago, caravans from Asia and Europe intermingle at this bazaar."
"Look at this skyline with that Eastern Orthodox Churches, this modern sports complex and those drably ex-Soviet houses."
Our excellent guide in Georgia was enthusiastically showcasing the capital, Tbilisi to us. Indeed, this was once a Silk Road caravan stop and one of the first countries to adopt Christianity as the national religion and hence Georgia is endowed with many historical Orthodox churches. Unfortunately, its recent history of being part of the Soviet Block etched an ugly reminder both in the cityscape as well as the people's memory.
Today, Tbilisi is on the move with the Georgian looking forward and yet keeping its tradition. Outdoor cafe and restaurants in its historical quarter are chic and varied. Some local hotels are interesting and yet meet international luxury standard, such as Room Hotel, which we stayed in. It was an excellent start to our Caucasus journey and a good base to explore the country.
Apart from spending a day to explore Tbilisi, we made two full day excursions. A short 35mins drive away is Mtsheka, considered the birthplace of Georgia with the stunning setting of Javri Monastery overlooking the city. From here, another hour takes you to Gori. For its painful relationship with Soviet or Russia, Georgia unfortunately is the birthplace of the notorious dictator, Joseph Stalin. Well, at least, it is now a tourist attraction as most tourist made the "pilgrimage" to his on-site museum. And before returning to Tbilisi, we made a short detour to Uplistsikhe, a pre-historical cave dwelling that dated back 3000 years.
We also made a day trip to David Gareja. It is a long 2-hour drive but through beautiful windswept landscape. The main monastery's setting against the remote dramatic cliff was outstanding and mystical. What we enjoyed most was hiking along the ridge popping into many of the cave chapels looking across to Azerbaijan.
No visit to Georgia will be complete without driving right up to the Russia border to visit the iconic site of Kazbegi. Here, set on a lonely ridgeline is Tsminda Sameba or "The Great Cathedral". The majestic snow-capped Caucasus forms the perfect backdrop!
We stayed at Hotel Kazbegi, a luxury design hotel offering a wonderful view of Kazbegi and Caucasus. We got the Kazbegi view room to welcome the stunning sunrise the next morning.
From Kazbegi, it is a half day drive skirting past Tbilisi to arrive at Armenia and bid farewell to Georgia. Our time in Georgia was short, else I would have very much wanted to explore the Kakheti winery region or hike around Svaneti with its lovely landscape and unique "skyscraper" village architecture.
Armenia
A short while after crossing into Armenia, two UNESCO monasteries await us. Their names are most interesting. It was built by 2 princes at about the same time – Sanahin which means "this is older" as it was completed first; and Haghpat which was expanded so that as the name suggest "this is bigger". Apart from the interesting names, both were excellent example of Armenian Orthodox monasteries 1000 years ago.
We spent the night in nearby Dzoraget in Tufenkian Avan Hotel built by a wealthy Armenian in America to promote traditional Armenian architecture.
Finally, we arrived in Yerevan, the capital of Armenia. Armenians are probably some of the toughest people in the world with painful history and current political environment. After WWI, the Turkish massacre millions of Armenians and till today, Turkish still denied the genocide and the world paid scant attention. Majority of Armenia's historical territory is still in Turkey today and it is a landlocked country surrounded by its arch enemy – Turkey and Azerbaijan. It was an amazing experience when one evening at a local restaurant, a table of local diners after some drinks broke into traditional dances and songs of how much they love their country and wish for their motherland to be returned to them!
Yerevan is a beautiful city. We stayed in Marriott overlooking the central square with a musical fountain. Another great option available now is The Alexander, a member of the Luxury Collection. Many overseas Armenian contributed to the city's landscaping. The National Museum is excellent and the Armenian Genocide Memorial very moving.
We also made 2 full days excursions out of Yerevan and Echmiadzin is certainly a highlight. This is where the Patriarch of the Armenian Orthodoxy reside and it is the Vatican of Armenia, endowed with historical treasure and just simply a powerful religious ambience. Nearby is another UNESCO World Heritage site, the 7th century Zvartnots ruin.
The next day, we visited a Greek archaeological site Garni and the gorgeous rock-hewed churches of Gerhard Monastery. The finale is Khor Virap. This is Armenian's answer to Georgia's Kazbegi, another most iconic landmark in the Caucasus. Built some 2000 years ago, this is Armenia's most sacred monastery with a backdrop of perhaps Christianity's most sacred mountain, Mt Ararat, believed to be where Noel's Arch landed after the great flood.
The picture-perfect sight of medieval monasteries with Caucasus as backdrop and encounter with the locals telling their own stories as they go through a dramatic chapter of modern history both left behind wonderful memories. But perhaps, what set this destination apart from the rest is having so few tourists. Here you roam the UNESCO world heritage sites with your own private guide without crowds and enjoy the luxury tour arrangement of your personal driver / guide while staying in some of the best hotels. Go soon before the rest of the commercial tourism catches up.
Written by Intriq Journey